Fans of live video matings can catch the docking of the Johannes Kepler space truck and the International Space Station's Zvezda module later this afternoon.
The happy event is expected at 16:45 CET (15:45 GMT), and the European Space Agency will be streaming live footage from 15:15 GMT, right here.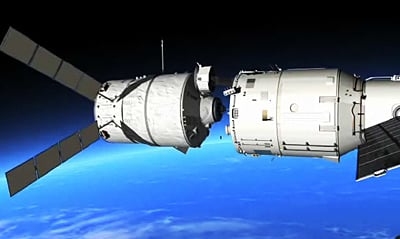 The 20-tonne Johannes Kepler, the second Automated Transfer Vehicle (ATV), blasted off atop an Ariane 5 rocket from the Kourou spaceport in French Guiana on 16 February.
It's carrying "4,534kg of propellant for International Space Station reboost and attitude control", "1,600kg of dry cargo, 850kg of propellant for Russia's Zvezda module and 100kg of oxygen".
The vessel is fully automated, and the ESA hopes the ATV Control Centre in Toulouse, France, can enjoy the docking show while ensuring everything's running smoothly.
In normal operations, the ground crew's role is restricted to "sending 'Go' commands to the spaceship in orbit for onboard pre-programmed sequences".
The Johannes Kepler will spend three-and-a-half months at the ISS, during which it'll do its bit by using its own thrusters to "raise the Station's orbit periodically in order to compensate for the natural decay caused by atmospheric drag".
Its job done, the space truck is doomed to burn up on re-entry over the Pacific, carrying ISS waste and redundant hardware. ®
Similar topics