This article is more than 1 year old
'Most stupid criminal ever' blew cover on Facebook
Burglar posted gloating self-portrait from victim's own laptop
A man who stole a laptop, then used it to post a gloating self-portrait of himself on the victim's Facebook page is challenging for the title of the world's thickest criminal.
Last December, Rodney Knight Jr, 19, broke into the house of Washington Post journalist Marc Fisher and lifted "a bunch of stuff", including cash, a winter coat and a laptop computer belonging to the hack's 15-year-old son.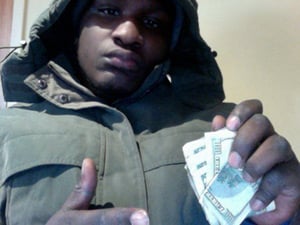 Fisher reported: "He felt compelled to showboat about his big achievement: He opened my son's computer, took a photo of himself sneering as he pointed to the cash lifted from my son's desk, and then went on my son's Facebook account and posted the picture for 400 teenagers to see. In the picture, the man is wearing my new winter coat, the one that was stolen right out of the Macy's box it had just arrived in."
While investigating the crime, DC police officer Kyle Roe admitted: "I've seen a lot, but this is the most stupid criminal I've ever seen."
Knight was eventually cuffed in a Washington alleyway in early January, while packing a piece. On Tuesday, he was dragged before DC Superior Court where he pleaded guilty to a burglary charge and another of carrying a pistol without a licence.
He's due to be sentenced on 4 May.
We're sure readers will agree that Knight's made a pretty good pitch for the history's dumbest crim crown, but he's got some strong competition from the 18-year-old Brit burglar who sprayed "Peter Addison was here!" at the scene of a break-in, the armed blagger who left a mobile containing pictures of himself and his wife at the estate agents he'd just relieved of £6k, or the tooled-up Colombian who ill-advisedly targeted a karate school. ®