A UK phone sales house has advertised white iPhone 4s, along with a cracking £919 price tag.
As far as Apple's product range goes, the white iPhone 4 is somewhere between the Unicorn and the lost Ninth legion. We can't be sure if it's disappeared or never existed in the first place.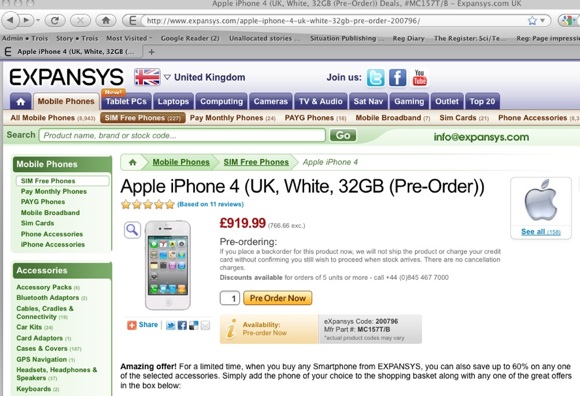 However, if the Expansys website is anything to go by, a crisp cool white iPhone 4 can be yours for a crisp cool £919.99. Or £766.66 excluding VAT. It'll even give you a discount - if you buy five or more.
The same price applies to both the 16GB and 32GB versions - which are both supplied network unlocked.
You'll have to wait, though, as Expansys doesn't actually have the product in stock right now.
We called Expansys to ask them where they'd obtained their stock, and their pricing strategy. We haven't heard back just yet.
Expansys charges £779.99 for the 32GB black iPhone 4, and £659.99 for its 16GB counterpart. But that's understandable. After all, we know they exist. ®
Similar topics