Cloud gaming storms into the UK
Try EA games in your browser for free
Cloud-based gaming is again in the limelight today with the announcement that game service Gaikai has gone live in the UK for all to trial.
Gaikai - which today came out of its closed beta stage - allows users to demo games in their browser without the need for a download.
Just like cloud-based gaming platform OnLive, this type of service requires a speedy internet connection. However, Gaikai pushes the content directly to a browser using Flash and Java so games such as Mass Effect 2, Dead Space 2 and The Sims 3 can be played through websites rather than a proprietary application.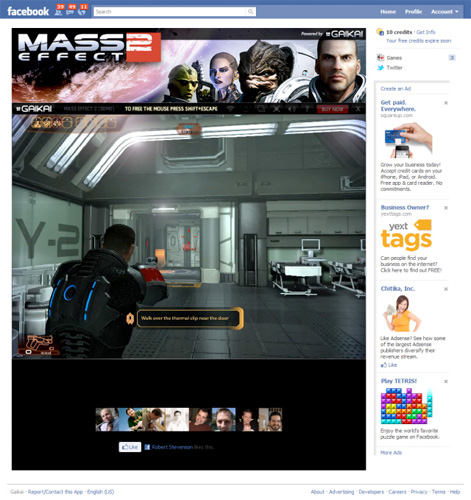 Mass Effect 2 running through Facebook, who would have thought?
This also paves the way for demos being implemented at the end of a games review, directly in the browser for all to try. And try-outs are the key focus: Gaikai stresses it's a platform for demos rather than full-on gaming. It A portal to see if a title is worth going out to buy for your console or PC first, without the need for downloading any content.
Company co-founder David Perry spilled the beans in his blog and says Gaikai has been working closely with EA to bring the most popular games to market because "when you're burning incredibly powerful/expensive servers it doesn't make financial sense to be streaming a very niche game".
We'll have more on cloud-gaming soon. In the meantime, give Gaikai a whirl and let us know what you think. ®