This article is more than 1 year old
Nokia DC-14 bike charger
Pedal power
Review Most of us are happy to be green so long as it doesn't put us too far out of our way. With this in mind, Nokia has released a gizmo for turning your pedal power into battery power with a bike charger for its phones.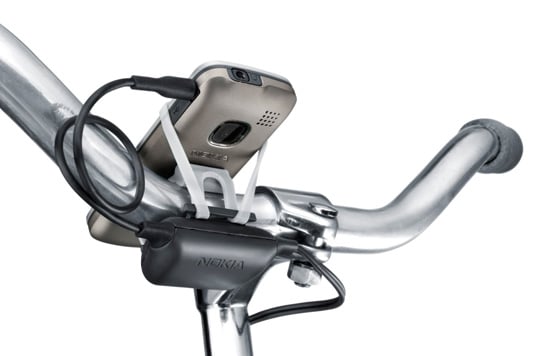 Charging bars with a difference: Nokia's DC-14
You might think that Nokia's take on green power for its mobiles would be state of the art piece of digital wizardry. But no, the DC-14 bike charger looks very similar to those old bike light chargers you may have seen aged geography teachers pedalling around with a couple of decades ago.
It's a clumpy contraption consisting of a dynamo, which you attach to your bike's front fork with a bracket, which is in turn attached to a grooved wheel which rests against your bike tyre. When you set it up, the charger's wheel should sit a few millimetres away from your bike's front tyre. Pressing a button moves it inwards to make contact with the tyre.
At £25 it's probably a bit too much hassle to steal, but any cyclist who's had their bike lights and reflectors unscrewed and taken will be wary of leaving the device on their bike in public view – and there's no quick-release system.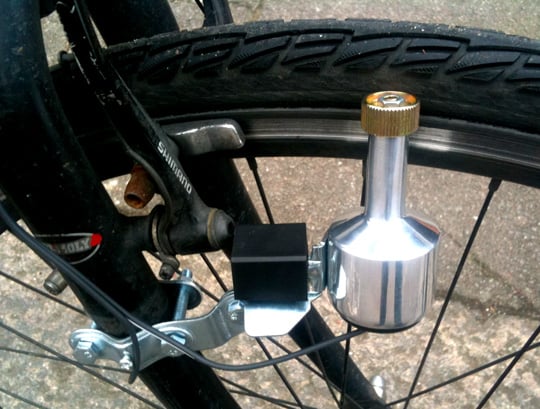 Familiar dynamo arrangement
A pair of wires connect to a standard Nokia 2mm pin plug which you insert into your phone's power port. Since it's only available with Nokia's proprietary power plug you can only use it with Nokia phones.