Fanboi rumor mill dances for iPad 2 iPad 3
The Fondleslab Follies
The iPad 2 – or whatever Jobs & Co choose to call it – is almost certain to be unveiled on Wednesday, judging from the not-so-subtle graphic used in the invitation for the roll-out event to be held in San Francisco. And already the buzzosphere is a-buzzing about the iPad 3 and an expanded MobileMe.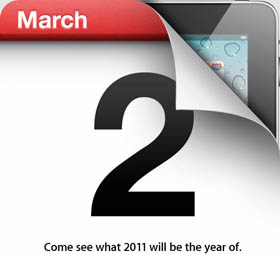 Hmm... An iPad event on March 2, y'think?           
"For the iPad 2 don't get your hopes up too high," an anonymous Apple staffer told Cult of Mac. "They've had a number of problems along the way, and the third-generation iPad is the one to make a song and a dance about."
That third-generation iPad is rumored to appear this fall – perhaps as early as August or September – and some speculate that it could be powered by Nvidia's upcoming four-core Kal-El processor, a CPU/GPU mash-up that can support displays of up to 2560-by-1600 pixels.
The iPad's 9.7-inch display currently has a resolution of 1024-by-768 at 132 pixels per inch (ppi). Doubling that to 2048 by 1536 – well, quadrupling it, actually – would put its pixel density at 264 ppi. That's significantly below the 326 ppi of the iPhone 4's much-vaunted retina display, however. The Reg doubts, however, that Apple's marketeers will dub such a lower-density pixel-packer as a "macular degeneration display".
But the "song and dance" iPad 3 is, at minimum, half a year away. The iPad 2, however, is poised for unveiling just ... about ... now. What's more, one Italian website claims that the unveiling will be hosted by none other than Steve Jobs – or, as settaB.IT put it: "Domani Steve Jobs presenterà il nuovo iPad."
As is true with most every Apple announcement, the rumor mill has been grinding out a series of, well, rumors about the iPad 2, fueled by such pleasant silliness as Engadget spotting a pair of mockups at CES, the now-traditional multiple readings of case-maker tea leaves such as one by the wonderfully named Macgasm, and reports of an iPad duex attending the unveiling of Ruper Murdoch's lamentably lame iPad news rag, The Daily.
Let's indulge ourselves in a rundown of the major iPad 2 rumors to date, shall we?
The iPad 2 will have a thinner, lighter case, possibly made of carbon fiber;
a display the same size and resolution as the one in the current iPad, but with improved performance in bright sunlight;
better overall performance due to a better-performing processor – possibly a dual-core CPU based on the ARM Cortex-A9;
better graphic performance thanks to an Imagination Technologies PowerVR SGX543 graphics processor;
twice the current iPad's 256MB of RAM (matching that of the 512MB iPhone 4) to better support more-complex apps and multiprocessing;
flash storage maxing out at 128GB, also twice that of the current top-end iPad;
a Qualcomm MDM6600 multimode radio chip as is in the Verizon iPhone 4, to allow support for both GSM and CDMA;
two cameras: a low-res one on the front for FaceTime video calling, and a highish-res one on the back for turning the iPad into a bulky point-and-shoot;
better audio through a beefed-up speaker;
an optional white case, to wow the fashionista crowd;
and finally, one rumor that we don't believe has much credence: the replacement of the well-aged 30-pin USB connector with a Thunderbolt port à la the new MacBook Pro line – but, of course, we could be wrong.
Even if most of these rumors are correct, Cult of Mac's source would be correct in saying "don't get your hopes up too high." The improvements would be welcome, of course – especially, from our point of view, the lighter weight – but none would launch the iPad 2 into the OMG! category.
For that leap, apparently, we'll need to wait for the iPad 3 – or iPad HD, or iPad Pro, or iPad Optimus Prime, or whatever it'll be called.
In addition, the iPad 2 may not be the only announcement at Wednesday's event. Cult of Mac's source also said that Apple will announce that MobileMe will be expanded to allow you to store all your music, videos, films, and the like – well, at least the ones you've bought from Apple – in the Cupertinian cloud, accessible from everywhere on whatever iOS or Mac OS X device you may own.
It's our considered opinion that it's still a bit early for this service to be implemented, seeing as how Apple's $1bn megadatacenter is not yet up and running. As an Apple rep at the company's recent shareholders meeting said: "Apple's North Carolina data center is expected to open this spring, and will support the iTunes and MobileMe services."
That said, MobileMe packages have been disappearing from Apple's shelves, both physical and virtual. Perhaps Apple will announce on Wednesday that MobileMe is now free, thereby enticing fanbois to jump aboard in anticipation of an expanded MobileMe service becoming an all-content repository when the North Carolina datacenter goes online this spring.
See how easy it is to join the rumor-starting club? ®