This article is more than 1 year old
Steve Jobs unveils iPad 2
Faster, slimmer, dual-core
Apple unveiled its second-generation iPad on Wednesday morning, called simply the iPad 2. Apple chief executive Steve Jobs, away from Apple on medical leave, did the honors, as was rumored yesterday.
According to live blogs from Macworld and ArsTechnica (for some reason, The Register is not invited to Apple press events), the iPad 2, Jobs said in a bit of an exaggeration, is an all-new design: "not tweaked." Some of that purportedly all-new goodness includes a new dual-core processor that Apple calls the A5 and up to nine-times faster graphics. The iPad 2 also has two video cameras, one in the front and one in the rear, as does the iPhone 4.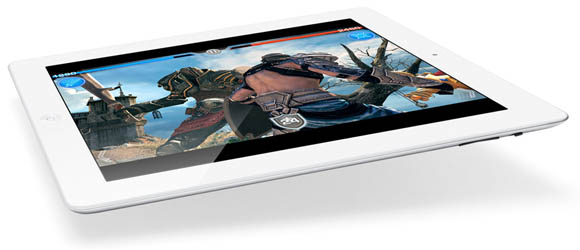 iPad 2 – also available in black
One truly striking thing about the iPad 2 – available in both black and white "from day one" said Jobs – is how thin it is. At 8.8mm, it's slimmer than even the iPhone 4, which is a comparatively chunky 9.3. Its weight, however, hasn't dropped all that much: from 1.5 pounds in the original to a still somewhat hefty 1.3 pounds.
As expected, the iPad 2 will support both GSM and CDMA, making it available in the US from both AT&T and Verizon – also "from day one." No mention was made of 4G connectivity, however.
Accessories include a $39 HDMI adapter to mirror video at up to 1080p, and a rather odd magnetically attached, polyurethane or leather cover – not case – that, as explained by Jobs: "Automatically wakes the iPad when you open it, and puts it to sleep when it closes it." The polyurethane case covers are $39, and the leather ones $69.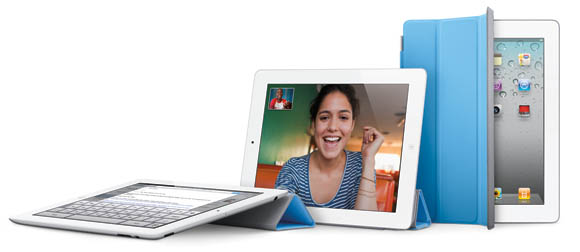 The iPad 2's oddball innovative unusual Smart Cover can double as a tilt-up or stand-up prop
The iPad 2 will begin shipping on March 11 in the US, then on March 25 in 26 more countries, including the UK, Australia, Canada, France, Germany, Japan, and other big-market targets. Pricing will parallel that of the original iPad, starting at $499 for the 16GB, Wi-Fi–only version, and topping out at $829 for 64GB and Wi-Fi plus 3G.
In addition to the iPad unveiling, Jobs announced that Cupertino has (finally) struck a deal with Random House that will add more than 17,000 books to the iBookstore, bringing the number of publishers in the store to over 2,500.
In other number news, Jobs said that Apple has now paid more than $2bn to developers, the company's online app, music, video, film, and book stores now have 200 million credit-card accounts, they've sold "almost" 15 million iPads in 2011, generating $9.5bn, and have recently shipped the 100 millionth iPhone.
Steve Jobs, by the way, looked good. ®