Michael Robertson's latest quixotic venture has much in common with his earlier adventures in entrepreneurship, such as MP3.com, his Linux distro, VoIP service and locker music.
These have divided opinion, you might say; they're viewed either as fabulously "disruptive" innovations, or solutions looking for a problem to fix that end up as spectacularly ill-judged wastes of everyone's time.
They've actually always been a bit of both, although since MP3.com, they've tended towards the latter rather than the former. And since Robertson stomps in where others fear to tread, all have generated huge income for lawyers – the real winners in each case.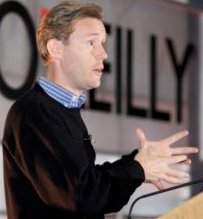 Robertson describes his latest, DAR.fm, as a "TiVo for radio". It caches the world's radio stations and puts them in the cloud – where they become searchable on-demand streams. It's still at the experimental stage – feedback is welcome. As you might expect, Robertson has no licences, arguing that no licence is needed (in the US) to record radio. He told us, via email:
This specific issue has been litigated in the US when Cablevision launched its RS-DVR (remote storage). Media companies sued them alleging copyright infringement. The courts found that Cablevision wasn't doing any copying even though they design, built and warehoused the servers in their office. Instead they found that the users were doing the recording. This was the Cartoon Network v Cablevision case. A month ago Cablevision launched the commercial version of this service.
The web UI is barebones. Dar.fm uses the client software that has been built for Robertson's cloud music service MP3tunes. Which means Airband for iPhone or iPad; clients for Android, Palm and Windows Phone; and embedded software in net radios and TVs. There are no frills – no discovery or social features – and there are some odd categorical errors. The legendary diva Monica Lynch of freeform radio station WFMU finds herself in the "talk radio" section, for example. While I doubt anyone is more deserving of their own chat show, it isn't actually a talk show.
So what value does Dar.fm create? If you're already using a client-side radio recorder, such as Radioshift, then the answer is none. How about convenience? Admittedly, once you've set up your TiVo-like choices, you don't have to return to them, or leave the computer on – but it is still an extra set of hoops to jump through. And the content still buffers, as all internet radio does.
The greater problem is that radio is not TV. While TV has its sprinkling of "must-watch shows", radio is an ambient medium and most of it is "consumed" as a background activity. Most of it is designed to be in one ear and out the other – and there is nothing wrong with that, it can still be great radio. The broadcasters already know what their "must-listen" shows are, and they know the value of them – most have been available as on-demand as podcasts for years. And the broadcasters know the value of these – which in some cases are more famous than the station that produces them. These shows are a vital link to getting to know their audience, so they're not going to cede that information to a third-party that doesn't offer something fantastic in return.
So for Dar.fm to succeed it has to offer something quite unique to the broadcasters. What might this be? A common infrastructure that lowers their transaction costs might be one – but it isn't a problem that needs a solution at the moment – sticking a podcast on the web isn't that expensive, and Google provides the search and discovery. It's hard to see what "problem" Dar.fm, or something like it, might be trying to "solve".
But I might be wrong... You can find out for yourself here. ®
Bootnote
The first mention of a "TiVo for Radio" at El Reg pops up 11 years ago – in this report.