Review Though you wouldn't guess as much from the raucous clamour about the as-yet-unforeseeable outcome of Nokia's adoption of Windows Phone 7 as its smartphone OS of choice, the Finnish phone giant continues to run a very decent business selling basic handsets to World+Dog.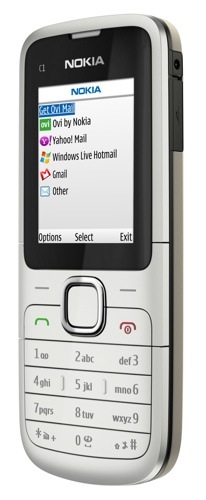 Nokia's C1-01: basic, but bloody good
Case in point: the new C1 and C2 phones, designed to be first rungs on the ladder of mobile ownership for customers in parts of the world where the latest over-spec'd soggy-jamas dream of a smartphone is just a waste of six months' salary combined with lousy battery life.
For those of us in developed markets, they represent the opportunity to buy cheap, well made voice- and text-oriented handsets with a surprisingly comprehensive spec.
Low cost shouldn't mean low expectations. The first thing that will strike you is how attractive the C1-01 looks and feels. Most of the bargain basement phones I looked at in my recent voicephone round-up looked and felt exactly as cheap as they were, if not cheaper. The 01, however, is every bit as solid and well made as the other candybars in Nokia's C-series line-up.
Special mention has to be made of the keypad and five-way nav key combination, which gives little away to that fitted to the far more expensive Nokia C5. The keys themselves are large, well spaced, and have a positive and pleasing action that makes texting a joy.

Bottom'n'top
The screen above isn't bad either. At only 1.8in corner-to-corner and 128 x 160 in resolution, it's no ground breaker but it's bright and colourful and works well in direct sunlight.
Similar topics