This article is more than 1 year old
Rogue AV pimps finally show love for alternative browsers
Ruse spoofs Firefox, Chrome, Safari
For years, ads pimping malware disguised as legitimate antivirus programs have gone to great lengths to mimic the look and feel of Microsoft's Internet Explorer browser and Windows operating system. Now Mozilla Firefox, Google Chrome, and Apple Safari are getting the same treatment.
A security researcher from Zscaler has recently uncovered a campaign that's tailored to the browser that the intended victim is using. Those with IE will see the same tired graphic depicting a Windows 7 security alert, but look what happens when the visitor is using Firefox.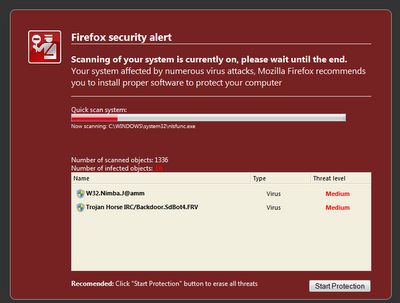 Not only does the image contain internal Firefox elements in the source code, it also spoofs the security warning the browser shows when users attempt to navigate to an address known to be malicious, said Julien Sobrier, a senior security researcher at Zscaler.
When the intended mark visits the page with Chrome, the ruse looks altogether different. The first screen shows a warning window bearing the browser's distinctive logo and the words "Chrome Security has found critical process activity on your system and will perform fast scan of system files."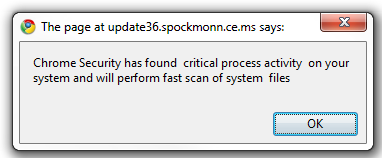 The user then sees what purports to be a Chrome window showing a virus scan.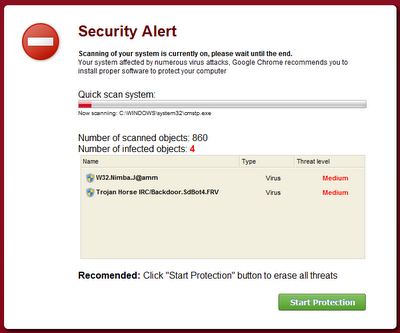 Not to be left out, Safari is also spoofed, although with significantly less effort. The initial warning looks like this:

But the scan page defaults to the look and feel of IE.
The ads are an attempt to trick visitors into believing they have infections that can be cured by the software being offered in the ad. By customizing the screens to the browser, it stands to reason, malware mongers stand a better chance of succeeding.
"I've seen malicious pages tailored in the past, but they were mostly fake Flash updates or fake codec upgrades for Internet Explorer and Firefox," Sobrier wrote in an email. "I've never seen targeted fake AV pages for so many different browsers."
Some of the sites that redirect to the scam include columbia.faircitynews.com, www.troop391.org, jmvcorp.com. When successful, the redirected page pushes the file InstallInternetDefender_xxx.exe, where "xxx" is a number that changes frequently. At time of writing, it was detected as malicious by just 9.5 percent of the major (legitimate) AV packages, according to a VirusTotal scan.
No doubt, Reg readers are savvy enough to spot scams like this, but what about poor Aunt Mildred, who has being told by a well-meaning relative to never, ever use the heavily targeted IE? Makes you realize why fake AV can be such a huge revenue generator.
Sobrier, who blogged about his findings here, first spotted the customized ads on Monday. ®