This article is more than 1 year old
Blighty's expensive Watchkeeper spy-drone in further delays
Extra bonuses: It's unarmed and needs Israeli support
The troubled, extremely expensive Watchkeeper project intended to supply unmanned surveillance aircraft to the Royal Artillery has hit further technical delays. The first robot spyplanes should have been delivered in February - eight months later than the original contract called for - but they will now arrive "toward year's end".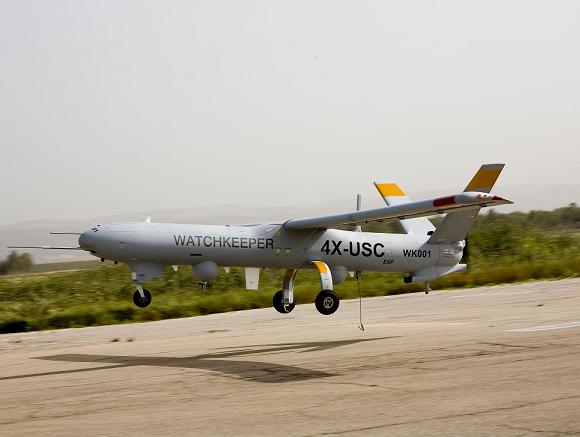 Gets off the ground by burning money
Aviation Week reports on the new slippage in Watchkeeper's delivery date, which was revealed by executives from contractor Thales during a discussion of the company's 2010 performance.
According to Av Week the Thales execs claimed that the new difficulties had previously been revealed "in a report issued by Britain's National Audit Office and have now been resolved".
However, the last NAO report to mention Watchkeeper, the 2010 Defence Major Projects Report issued last October, lists the Watchkeeper's in-service date as February 2011 - noting that this represents a further two-month day from the previous year's forecast (when the project began in 2005 it was planned that the first aircraft would be delivered last June).
According to the NAO, the Watchkeeper problems result from "technical difficulties". The audit office noted that almost every area of the project seemed to be in trouble, saying "the Watchkeeper unmanned aerial vehicle has the most lines of development assessed as 'At risk' (six, with only Doctrine and Organisation assessed as 'To be met')".
Watchkeeper is currently forecast to cost the Ministry of Defence £889m for 54 aircraft, putting each aircraft at £16.5m or approximately $27m at today's rates. It is based on the Israeli Hermes 450 unmanned aircraft which is already in service with the British Army in Afghanistan under a lease arrangement pending Watchkeeper's arrival. Engines and airframes will be assembled in new UK factories (in a part-Israeli-owned joint venture) using licenced Israeli technology and some European components.