The Guardian 2.0.2
Smart news app gets pricier... but better too
iOS App of the Week Version 2.0 of The Guardian newspaper's app came out recently, but I held off downloading it at first because it now requires a subscription rather than being completely free.
However, the recent uproar about Apple's seemingly restrictive terms for in-app subscriptions piqued my interest and prompted me to take out my very first digital newspaper sub.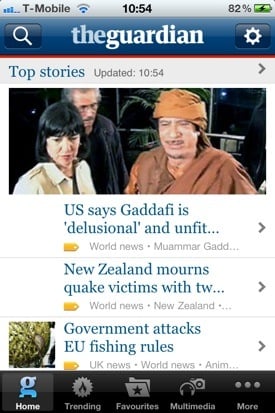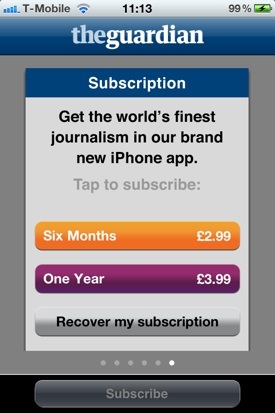 In fact, from the user's point of view, it's all very straightforward. Once you've downloaded the free 'shell' app, a simple tap on the screen allows you to subscribe, with the fee being charged straight to your App Store or iTunes account. A six-month subscription costs £2.99, while you can get a whole year for just a pound more.
The app's main page looks pretty much the same as it did before, with a list of top stories followed by additional sections such as sport, technology and culture. However, the old photo gallery has been replaced by a "Multimedia" section that now includes video clips and interviews.
Sports coverage has been significantly enhanced too, with a 'matches and results' section, and the option to have goal alerts sent straight to your iPhone.
Readers' comments posted on the Guardian website can also be read at the end of stories in all sections, although you can't currently log in and add your own comments from within the app.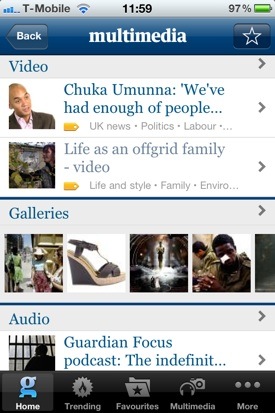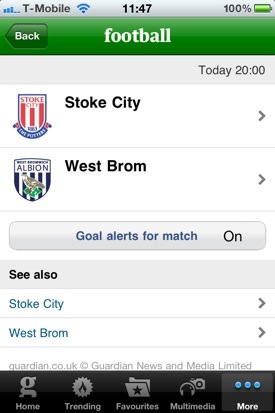 I like the fact that you can now flip the iPhone into landscape mode when reading stories, but was disappointed to see that the app still doesn't provide an alternative layout mode for the larger screen of an iPad.
Still, it's hard to argue with a subscription rate that works out at about 2.5p per day. I've now stopped buying the paper version completely, so this is one app that is certainly earning its keep and saving me money. Whether or not it makes any money for the Guardian is a whole other question… ®
This is our first iOS App of the Week. We'll be making our selection of the best downloads every Thursday. And if you think there's an app we should be considering, please do let us know.

The Guardian 2.0.2
A full daily newspaper for 2.5p an issue. Bargain. And it's easier to read on the tube too.
Price:
Free plus £3 six-month subscription or £4 annual subscription RRP