This article is more than 1 year old
Cobalt-barrel machine guns could fire full auto Hollywood style
Movie/videogame spray-and-pray gunfights real at last
You know in the movies, where people get hold of powerful automatic weapons - rifles or machine guns - and fire them on full automatic for ages?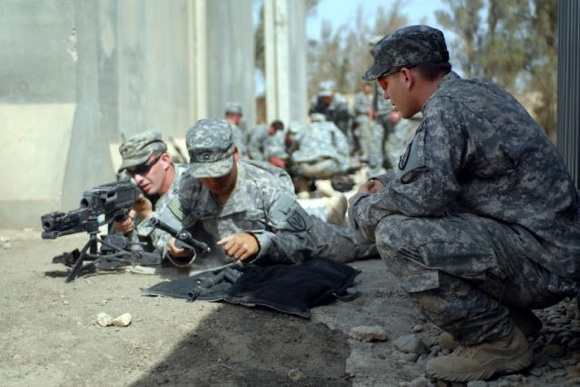 Goddammit Kowalski, it's supposed to come off in your hand
That's quite unrealistic - even in modern movies which make a nod to reality by now and then showing someone reloading. Even where ammo is available in plenty, in the real world you normally can't keep on firing for long on full automatic, for the simple reason that the barrel of your gun will melt. This is why old-school tripod-mounted or vehicle machine guns were equipped with water-cooling jackets around their barrels, allowing them to keep hammering away until they ran out of ammo or - more likely - suffered a stoppage.
Water jackets, though, are too heavy for weapons meant to be carried and operated by a single man, such as the light machine-gun carried by one soldier in each four-man team. But the gunner is expected to lay down heavy firepower when he and his team-mates get into a fight, often to the point where his gun barrel will overheat dangerously.
Thus, LMGs (aka squad automatic weapons in some circles) and heavier general-purpose machine guns are generally designed so that the barrel can be quickly and easily swapped for a spare, allowing the first one to cool down while the gunner keeps shooting.
That's not ideal, though, as steel gunbarrels - especially ones intended to stand up to sustained automatic fire - are heavy. Furthermore, even though barrel change is quick and simple it means an inevitable pause in the suppressive fire which is keeping the enemy's heads down and allowing the gunner's team-mates to manoeuvre and win the fight (that's the theory, anyway).
This situation has made US military boffins cross for a long time: but now they think they may have come up with a solution. The idea is to replace steel with cobalt alloy, which can resist high temperatures much better and is lighter to boot.
A machine gun with a cobalt barrel would be able to spray bullets all day without any need to swap it out for cooling-down periods: and the overburdened gunner would potentially get a somewhat lighter gun as well as being spared the need to carry a spare barrel.
Engineers working at the US Army's Picatinny Arsenal believe that they may have cracked the problems which have prevented production of cobalt alloy gunbarrels until now. Essentially the problem is that the alloy is so tough that it's difficult to cut the spiral rifling grooves down the inside of the bore, essential to make the bullet spin as it flies out of the end and so fly accurately.
"The material, for all of its phenomenal properties, is very difficult to manufacture and machine," says US Army weapons boffin Vinny Leto.
But Leto and his colleagues both from the arsenal and the US Navy (interested in equipping its marines and SEAL frogman-commandos better) think they may have cracked this problem. Rather than machining a cobalt barrel, they're experimenting with a process called "flow forming".
In flow forming, a cylinder of metal has a hard, preformed mandrel inserted inside it. Then, ultra-powerful rollers squash the cylinder onto the mandrel, so causing the inside to take on the desired shape. The rifling is pressed into the bore, rather than being cut as with a steel barrel.
Leto and his colleagues have apparently made a barrel from 50+ per cent cobalt alloy using flow-forming and test-fired 24,000 rounds through it, causing it to reach temperatures of 1,100 degrees. A steel barrel would have failed under such treatment.
"The benefit of the cobalt alloy is that it is designed to operate in high-temperature, high-stress environments," says Leto in a Picatinny statement issued this week. "It has the added benefits of corrosion and erosion resistance."
So it would seem that in the foreseeable future cobalt-barrelled LMGs will let squad/section gunners keep laying down fire without any need to swap tubes now and then. The new tech might also permit lighter weapons such as assault rifles to be fired continually in long bursts, the way they are in the movies - though soldiers still won't usually do that in real life as they can't carry enough ammo to be using spray-and-pray all the time (extra belts for the gunner are usually carried by the rest of the team).
Read all about it courtesy of US Army outreach here. ®