Eurofighter Typhoon: It's EVEN WORSE than we thought
RAF gets just 107 jets – and new budget trainwreck looms
---
RAF pilots won't be ready to do bombing missions until 2016 – by which time we'll be throwing away planes expensively modified for use as bombers.
Needless to say, there have been and will continue to be serious consequences resulting from the lack of spares. Our pilots can't get into the air to train:
The Department has consistently failed to meet the specified targets for annual flying hours, despite reducing its targets. Problems with the timely supply of spares and repair of equipment under the collaborative support contracts [which the MoD itself is mainly responsible for] have been a contributing factor to this failure ...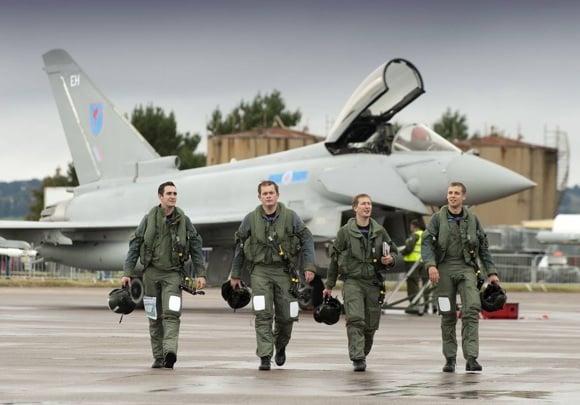 Hedgehog, Womble, Lofty and JT liked to go and sit in one for a bit even though they usually weren't allowed to fly it
The lack of planes actually fit to fly is serious – the NAO reports that of the 70 Eurofighters the RAF currently possesses, just 42 are actually available to flying squadrons. And the lack of flight hours has meant that some flyboys haven't been able to get into the cockpit at all:
In 2010, the RAF temporarily grounded five pilots.
Basic air-defence skills have been maintained, but there aren't enough pilots ready to fly ground attack missions and there won't be for some time.
The RAF currently has eight pilots who are capable of undertaking ground attack missions on Typhoon ... The Department plans to have sufficient numbers of trained pilots to conduct a small scale ground attack mission by 2014 and aims to deliver sufficient flying hours to train enough pilots to undertake the full range of planned tasks by 2016.
What a joy it is to think that we paid £119m3 to upgrade the Tranche 1 planes back in 2008 so that they could do ground attack. In 2016 the RAF will finally have the pilots it needs to use this capability: but by then the Tranche 1s will already be being thrown away – all of them will be gone by 2019, remember.
We paid all that money upgrading the Tranche 1s and now we'll dispose of them without ever having pilots trained to use the upgrade! The Eurofighter story really just gets better and better.
Another depressing piece of news is that not all the paucity of flying hours comes from the spares problem largely created by the MoD. Another difficulty has arisen from our cunning British plan to get the Saudis to buy 24 of the RAF's contractually-obligated 184 planes (that's how the government managed to reduce its order to 160 without breaching its deal with industry and the partner nations).
Similar topics
Narrower topics