Eurofighter Typhoon: It's EVEN WORSE than we thought
RAF gets just 107 jets – and new budget trainwreck looms
---
Eurofighter will be really useful as a bomber ... for about three years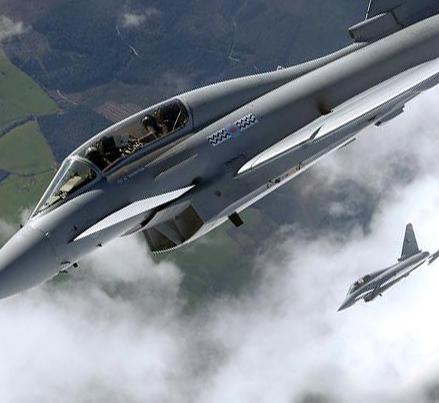 That guy learning? Probably a Saudi
Unfortunately the Saudis are understandably demanding to have pilots trained to fly their new jets, and the MoD – desperate not to be compelled to pay for and then scrapheap Tranche 2 planes as well as Tranche 1s – gaily agreed to sort this out.
Mournfully the NAO notes:
Flying hours diverted to training export customers could keep two RAF pilots fully trained in all roles [both air defence and ground attack] in 2010-11 and four in 2011-12. Similarly, support for export campaigns, such as flying demonstrations, has to be managed by the Programme Board from existing resources, diverting them from the RAF.
Given that we only have eight flyboys capable of flying ground attack at the moment, those are significant numbers (and you have to suspect that the five flyers we grounded last year were bumped from their seats by Saudis). Let's hope that the spares situation can be sorted and we can train more pilots, because the plan is to progressively fit the 107 jets which will remain in service with a fairly comprehensive ground-attack suite including not just smartbombs but the Storm Shadow bunker-busting cruise missile.
It would certainly be embarrassing to pay billions for these upgrades and then not have any airmen ready to make use of them – and this is the more so as there will only be a brief window of time where the upgrades will be really necessary.
No, we're not making this up. The NAO says:
Newer Typhoon aircraft will have progressively enhanced multi-role capability by 2018. By this time Typhoon is likely to be the aircraft of choice for both ground attack and air defence.
Not for long, though:
The Department plans to move, by 2021, to a fast jet fleet comprising two aircraft types: Typhoon and Joint Strike Fighter.
The F-35 Lightning II Joint Strike Fighter is specifically designed with ground attack in mind, and unlike the Eurofighter/Typhoon it is a stealth aircraft – fourth-generation stealth, in fact. As soon as the RAF (and the Navy) get the F-35, the Typhoon will certainly no longer be the aircraft of choice for ground attack – and quite likely not for air-to-air combat either, at least in some circumstances.
You really have to question why we're bothering to turn our Eurofighters into bombers at all, to be blunt. The truth of the matter is that we have to buy the bloody things anyway, and even after throwing more than fifty of them away while still brand new we'll be keeping more than a hundred - far too many for the job of protecting UK airspace, the only thing they're really much good for. So we'll throw good money after bad trying to make them useful.
Similar topics
Narrower topics