Discovery 'nauts wrap second spacewalk
ISS maintenance jobs done and dusted
Discovery mission specialists Steve Bowen and Alvin Drew yesterday wrapped the second STS-133 spacewalk, completing a series of maintenance tasks on the International Space Station.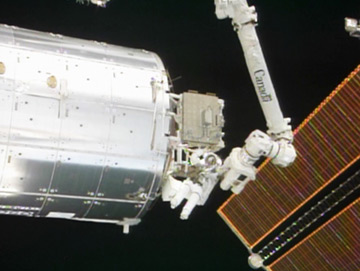 During the six-hour, 14-minute EVA, Bowen (see pic) first retrieved "a lightweight adapter plate assembly, an experiment holder, from the outer end of the Columbus module and installed it in Discovery's cargo bay for return to Earth".
He then spent an hour working on the Special Purpose Dexterous Manipulator, aka Dextre, "installing a camera light pan and tilt assembly and removing some insulation".
Drew kicked off by tackling "the relocated pump module for the station's external ammonia cooling system, using a device he had installed on Monday's spacewalk to vent the remaining coolant from the pump".
He then "installed a light on one of the small handcars, a crew and equipment translation aid", before moving to the port truss "to repair insulation on a radiator beam valve module".
The spacewalk was co-ordinated from inside the ISS by fellow mission specialist Nicole Stott. The unfortunate Tim Kopra, who was replaced by Bowen on the mission after falling off his bike, had to make do with offering advice from the ground.
NASA notes: "This was the final STS-133 spacewalk, the 244th by US astronauts. It was the seventh for Bowen totaling 47 hours, 18 minutes, and places him sixth on the all-time list of most time spent by US spacewalking astronauts.
"It was the second spacewalk for Drew, who now has a total of 12 hours, 48 minutes. It was the 155th spacewalk in support of International Space Station assembly and maintenance, totaling 973 hours, 53 minutes, which is the equivalent of 40 full days of spacewalking." ®