This article is more than 1 year old
Welsh battle killer shrimp invasion
Caspian crustacean cows Cardiff
The Welsh have taken to nets and catfood to battle a Caspian crustacean invasion that could have a "devastating impact on native species".
According to the BBC, the 3cm Dikerogammarus villosus shrimp has over the last decade made its way from the Black and Caspian seas via arteries such as the Danube and Rhine Canal.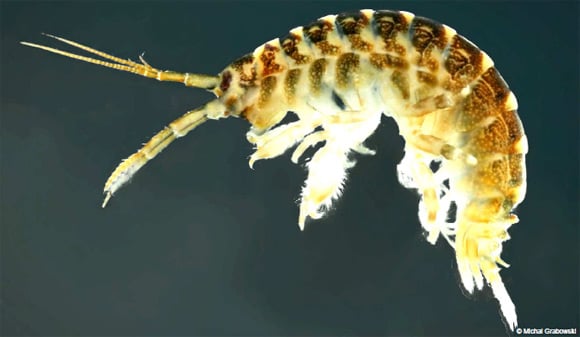 It was discovered in Cambridgeshire's Grafham Water reservoir last year, and has now been spotted in Cardiff Bay and Eglwys Nunydd reservoir in Port Talbot.
The threat is considered serious enough for the Welsh Assembly Government and the Department for the Environment, Food and Rural Affairs (Defra) to establish "a national task group to tackle the shrimp".
The plan is to trap the beast, which "thrives on hard surfaces like boulders, rocks and gravel just below the water surface" in nets baited with cat chow, while testing other sites for possible infiltration.
Andrew Johnson of the Environment Agency said: "We know from research done in other parts of the world that the spread of the this fish can have a devastating effect on the ecology.
"We do not want to replicate this impact, which is why the work we are doing with these traps is so important."
Dikerogammarus villosus gets its "killer" tag from its unsavoury habit of sometimes simply dispatching prey and then leaving the victim uneaten. The "voracious predator" poses a threat to fisheries and "native invertebrates such as mayflies".
Defra is on full killer shrimp alert, and has issued biosecurity guidance for anglers and boat owners to ensure they don't inadvertantly spread the menace. There's more here. ®