Mario Sports Mix
Ball's up
Junior league
But this is an old git writing, and arguably Sports Mix is really a game for kids. It's certainly too control heavy for the greybeards Nintendo also likes to target, and insufficiently violent or realistic for the 18-24 age range that forms the mass of the gaming audience. That leaves casual gamers like me, and nippers. I wasn't keen, but what about junior?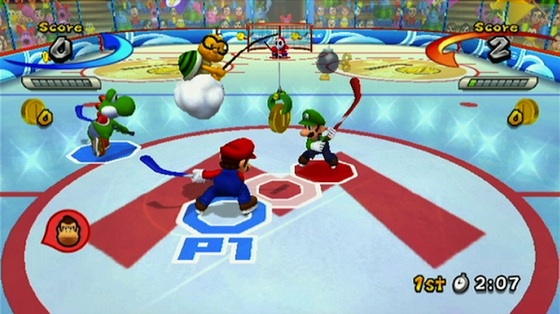 Jolly hockey sticks
Too easy, said my eight-year-old son, who found that once he'd got the controls sorted - ah, youthful ambidexterity, I remember it well - beating the opposition was generally straightforward. He played it solidly through a weekend and hasn't been back since. Mario Kart, Star Wars Lego, Donkey Kong Country Returns - these he comes back to time and again.
Verdict
Mario Kart Wii shows how good simple, lightweight minigame-style titles can be. Make it accessible, quick and fun, and the punters will love it. Nintendo and Square Enix have tried to come up with an equally successful follow-up, only to stumble onto the court, sneaker laces untied. There's some fun to be had here, particularly if you're a kid and there are more than one of you playing. But there's just not enough staying power to warrant a place in the Wii's premier league. ®
More Games Reviews

Little Big
Planet 2
Donkey Kong
Country Returns
Doctor Who:
Return to Earth
Tron
Evolution
Star Wars:
The Force
Unleashed II

Mario Sports Mix
Play four sports against pals or some of Nintendo's most famous cartoon characters.