Ten... fantasy swords you wish you owned
A slice of the action
Weapon round-up At Reg Hardware, with the honorable exception of videogames, we tend to talk up tools that generally assist in everyday life. Today, though, we're going to break tradition altogether and run through some weaponry. Well, bladed replicas to be precise.
If you've ever fancied yourself as a modern-day knight - Jedi or Dunedain - or a sword swinging superhero, but don't fancy a spot of home blacksmithery, then the obvious option is to get your weapon of choice off the internet - or a local forgery, of course.
We picked ten of the tastiest blades around, weapons whose origin can be found in books, films or videogames. They're all very deadly, ultra-cool and extremely tempting to buy. So enjoy as Reg Hardware goes Reg Hardcore and we bring you our favourite fantasy blades. Let us know if you think we're missing something, but remember, we're the ones with the weapons here, so don't be rude... or else.
Bloodrayne blades

When vampire killers go beyond the traditional shank of wood for a choice of weapon, tools for slaughtering the undead can be extremely memorable. There's many out there, from Blade's katana to Vampire Hunter D's crescent longsword, yet nothing quite compares to the arm-length blades found in the Bloodrayne series. Of course, there's Sex Machine's codpiece revolver in From Dusk till Dawn, but that's not exactly fitting here.
Rayne's blades become one with her arms, pummelling through blood suckers like windscreen wipers at a mosquito breeding ground. They strap just below the elbow and run down the outside of her arms. No weapon quite defines a character like Rayne's crutch-like blades so you can bet your bottom dollar there's some nifty replicas out there. There's no law against slaying vampires either, if you can find them - emos don't count, by the way.
The most popular choice out there appears to be a replica, which doesn't have the same flair as the blades found in the games, but they're still fairly formidable. 37in long and up to 4in thick, this thing is not to be taken for granted and is bound to cause more problems than the PC version of the game had, which says a lot really.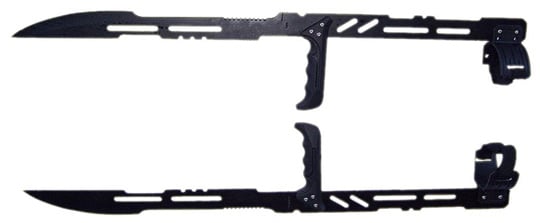 Chronicles of Riddick: Saber Claws

You may criticise the inclusion of a franchise that started life with Vin Diesel in the driving seat, but the bottom line is, Riddick is still a force to be reckoned with and his saber claws are too cool not to be here.
Dual-bladed weapons makes those who use them look extremely dangerous, from the double sleeved daggers in Assassin's Creed, to the menacing claws of that flange-faced race of alien, the Predator.
These smoothly curved saber claws are effectively twin sickles that feature 12.5in stainless steel blades accented with saw teeth on the back edge. Simple, but effective. They come in black or silver finishes and can be picked up pretty cheaply too.