HP uncloaks wristwatch 'aggregation point'
Leather strapped connectivity. We think
---
Updated In possibly the vaguest demo in recorded history, HP has revealed a futuristic connectivity device designed to be the centerpiece of your personal connectivity.
And, bless my soul, this magical and revolutionary device appears to be an analog wristwatch.
But not just any ol' analog writwatch, mind you. This one, as cursorily explained by VP and CTO of HP's Personal Systems Group Phil McKinney to a Chinese gathering earlier this week, has the puzzlingly macho name of Metal Watch, and will be "the aggregation point for your connectivity."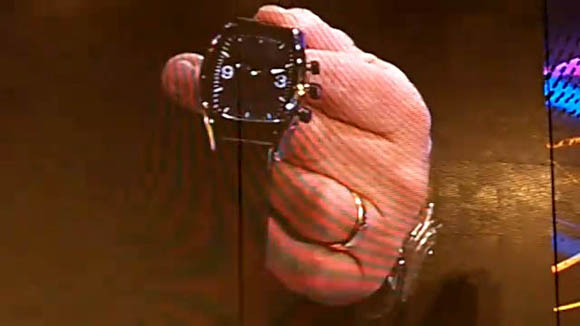 No, the Metal Watch is not being demoed by Darth Maul – there's simply a lot of moiré in HP's video
The problem intended to be solved by the Metal Watch – as vaguely posed by McKinney – is created by the increasing proliferation of internet-connected "gadgets", as he identified them: printers, desktop PCs, and mobile devices. "One of the areas that we're keenly focused in on is 'What is going to be the aggregation point for these devices?'"
Apparently that conundrum has been puzzling McKinney for some time. "When I was in Shanghai in 2007," he said, "I revealed some concept models of what we referred to as the 'connected watch'. So the concept was that the watch would become the aggregation point for your connectivity – be the point that brings all of these devices together rather than have each device operating independently."
Priming his audience for the revelation of this new class of connectivity device, McKinney said: " Well, what I'm about to show you here is the first time that we're actually going to show off the connected watch."
Unfortunately, by "show off", he merely meant "wave in front of a crowd." McKinney revealed next to nothing about exactly what the Metal Watch – developed in a "co-innovation agreement" with Fossil – is intended to do, or how it does it.
That is, unless you, dear reader, can divine more meaning from McKinny's rap than can your admittedly puzzled reporter. Here's his Metal Watch speil, word-for-word:
So this watch is the first generation of what we're doing as an investigation into this concept of not only the devices you carry in your pocket, but the devices you wear. And in this case this device runs a full software stack, fully integrates with the internet, allows you to carry it with you all the time and allows you to aggregate that information up from the standpoint of being able to connect it, share it, bring it together, but again, act as the integration point for all of the family of devices that you carry with you.
Huh? McKinney did add later in his presentation that the Metal Watch "is going to be able to connect to the cloud and be able to monitor and manage the information," but that's as deeply as he got into the capabilities and functionaltieis of the intelligent-router-on-your-wrist – or whatever it is.
If, by the way, you'd like to sit through McKinney's entire presentation, knock yourself out (the watch appears at about minute 25):
As he was wrapping up his rap, McKinney said: "It's all meaningless without the experience." The irony of that statement is not lost on The Reg. ®
Update
Late Friday afternoon, The Reg received an email from a PR rep who said, in part: "I want to clarify one thing from your post: the MetaWatch (not "metal" watch) concept was developed by Fossil as part of a co-innovation agreement with HP." So, even though McKinney said in his presentation that the watch was "developed as part if the co-innovation agreement with Fossil, the watch manufacturer," it's a Fossil device, not an HP one. Also, we duly note the corrected name of "MetaWatch."
More interesting in the PR rep's email was a link to an article posted on an HP blog on Friday afternoon that describes the Metal Watch MetaWatch in a bit more detail, and that includes the following brief video from a question-and-answer session after McKinney's presentation:
The MetaWatch, it appears, draws info from and can "can display, respond and interact with the applications running on the wireless devices you have," including displaying email, calendars, and the like. McKinney also says that a future MetaWatch may function as a "mobile Wi-Fi hotspot on your wrist."