Apple: If you're under 17, you can't use Opera
Idiots must use Safari
Apple has allowed Opera's desktop browser into its new Mac App Store, but it has decreed that no one under 17 years old can download the thing.
Jan Standal, vice president of desktop products for Opera Software, takes issue with Apple's stance. "I'm very concerned," he said in a statement. "Seventeen is very young, and I am not sure if, at that age, people are ready to use such an application. It's very fast, you know, and it has a lot of features. I think the download requirement should be at least 18."
We agree, Jan. At least 18. Maybe even 19. We would also argue that Apple should attach an intelligence requirement. Anyone with an IQ under 80 should be forced to use Safari.
Safari is the Apple browser that comes preinstalled on Apple Macs, and there's no age minimum on Mac purchases. Considering that Safari loads the same webpages as Opera, Apple's insistance on an Opera age minimum isn't an effort to protect young minds from the horrors of the internet. Clearly, Apple believes that young minds shouldn't be exposed to the reality that they're free to use applications eminently preferable to its own.
Defying the concerns of both Jan Standal and the Jobsian app police, Opera's PR arm has told youngsters that although they can't download Opera from the Mac App Store, they can download it from www.opera.com. But the company has urged them to ask their parents' permission before downloading.
This morning, despite the ban on under-17 downloads, Opera was the most popular free application in the Mac App Store: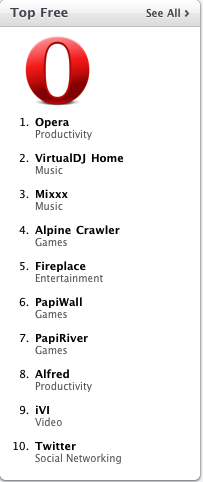 Apparently, some Mac buyers still realize they can think for themselves. ®