There are two winners of the Sybil Fawlty "bleedin' obvious" award this week.
First, let's give a round of applause to IPTV company SeeSaw which managed to identify a new social trend: 'TV Dinners' have become 'PC Dinners'.
The on-demand TV service SeeSaw interviewed 2000 Brits and found that over half of them "confessed" to eating dinner in front of a computer. OMG right? But that's not all. A fifth of them do it on a regular basis. Shock, shock horror.
The computer is apparently used in other "unlikely" places too. A third of us, use them while on the loo, while two thirds of us surf the net sat in bed. And I thought I was the only one...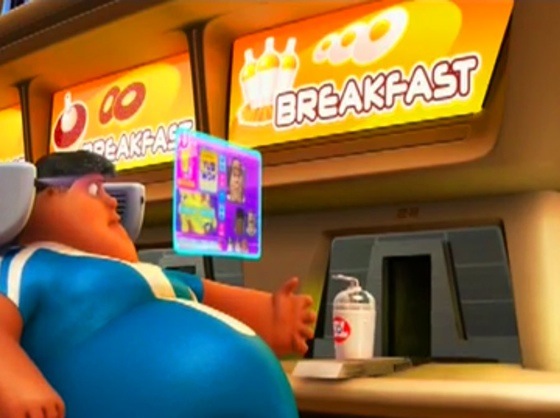 YOUR TECH FUTURE
Source: Disney Pixar
Moving on, our next winner is the Washington DC-based National Sleep Foundation (NSF) for conducting a study that shows those who stay up late using electronics don't get enough sleep, Reuters reports.
Experts suggest teenagers should get over nine hours of sleep a night, but with more than a third of them watching TV or downloading pr0n before bed, that figure is cut to just seven or so hours.
Biology boffin Charles Czeisler says exposure to artificial light can suppress the release of melatonin, the body's natural hormone for inducing sleep.
"Kids today are getting an hour-and-a-half to two hours less sleep per night than they did a century ago. That means that they are losing about 50 hours of sleep per month," said Czeisler.
But it isn't just children who are affected by technology. Many of us watch TV into the twilight hours and almost a third of young adults stay up late to play videogames. Some 60 per cent of us use computers before bedtime too, all of which causes us to lose valuable kippage.
According to the NSF, that can have a negative impact on work, mood, family relationships, driving ability, sexual energy and, of course, health.
So there you have it: we now know lots of us watch computers over dinner, and don't get enough sleep because we spend too much time fiddling with technology. Great work, chaps.
At least those who read such studies won't have any problems dozing off. ®
Similar topics