Fireless wireless
The NB500's other specs are decent, if blandly netbook standard: nothing stands out, but Toshiba hasn't left out anything either. You'll find much the same features as you do on more expensive netbooks.
That said, I was particularly unimpressed with the NB500's 2.4GHz 802.11n Wi-Fi adaptor, which Windows states delivers a speed of just 72Mb/s, barely faster than 802.11g's 54Mb/s. 802.11n is capable of a much higher throughput, even allowing for Windows reporting the maximum possible speed rather than real-world throughput. The NB500 doesn't feel as quick as other 802.11n kit I've used, nor as able to cope with areas where a router's wireless signal is week.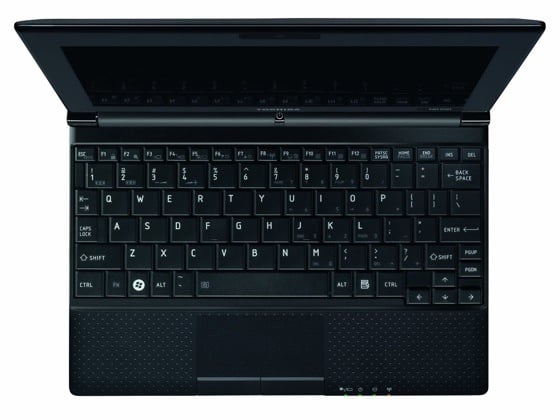 Clacky keyboard
I've seen this on other consumer-centric Toshiba notebooks of late, and it's disappointing, particularly when a laptop's raison d'etre is internet connectivity. It's a result of the number of antennae the NB500's half-size card has available: one transmit and one receive, rather than two (144Mb/s) or four (288Mb/s). A cost-cutting measure, presumably.
Wireless card, memory and hard drive are all easily accesible from a big hatch on the base of the netbook, but replacing the Realtek RTL8188CE card won't help - there are still only two antenna cables.
The NB500's keyboard is not more a premium product than the Wi-Fi adaptor. The big, flat keys aren't unpleasant to type on, but they are a tad on the clacky side. Worse, though, the character and symbol decals all have wide borders that catch the light to give them splodgy, poorly printed look when you glance down at them. The colours don't help any. Come on, Toshiba, dark grey on black for function keys? You can barely see what they are.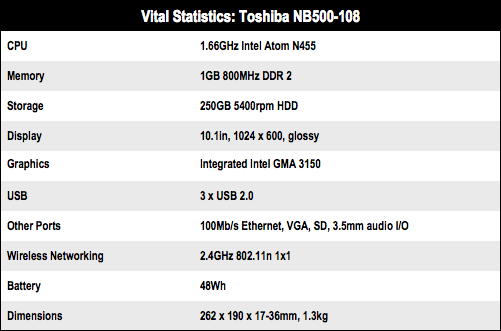 Similar topics