Dimpled design
The screen, thankfully, is nice and bright, and very legible, though it seems smaller than it is, thanks to a large, gloss-black bezel.
And a low cost doesn't mean - here, at least - a duff-looking machine. The NB500 follows the pattern set by the NB200, though the latter's big round corners here see their diameter of curvature much reduced. The lid curves at the sides, not at the front, and both it and the wrist rest are lifted with a matrix of dimples.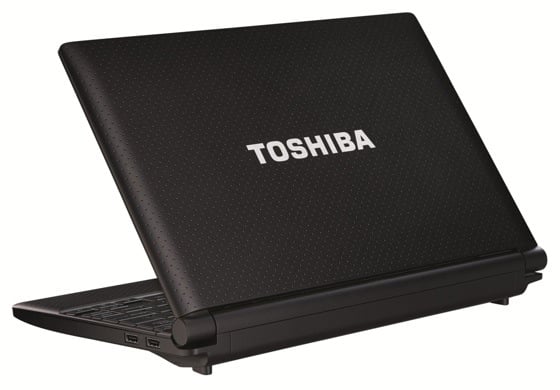 Dimples dominate
While much of the NB500 is just an inch thick, the big battery at the back dominates, as it does on so many netbook. On the review sample it was a 48Wh job, and it yielded just under five hours' runtime in Reg Hardware's continuous standard-definition video playback test. Good, but nothing out of the ordinary.
Toshiba has priced the N500-108 at £249, though you can also get the NB500-107 with a half-capacity, 24Wh battery, for £229. That's pretty much par for the course, for this a netbook with this spec, so Toshiba's cost cuts don't save you much.
Verdict
Yes, the NB500 comes at a bargain basement price, for a netbook, but its a cheap-feeling machine that's desperately in need of more memory and a better wireless card. You can add an extra gig of Ram easily and cheaply, but tough luck if you want faster Wi-Fi. ®
More Netbook Reviews

Samsung
N350
Asus
Eee PC
1015PEM
Samsung
NF210
Toshiba
AC100
Asus
Eee PC
1215N

Toshiba NB500 budget netbook
Low-price netbook based on the previous generation Atom chip.
Price:
£249 (48Wh battery) £229 (24Wh battery) RRP
Similar topics