AMD has unveiled a dual-GPU, easily overclockable, 3D-capable, DirectX 11–supporting consumer graphics card that it claims is "the fastest graphics card in the world".
"Packing more raw performance than any consumer graphics card ever created, the AMD Radeon HD 6990 provides the latest for the ultimate gaming advantage," crowed AMD graphics honcho Matt Skynner in an announcement modestly entitled "AMD Extends Graphics Performance Lead, Launches World's Fastest Graphics Card... AGAIN!"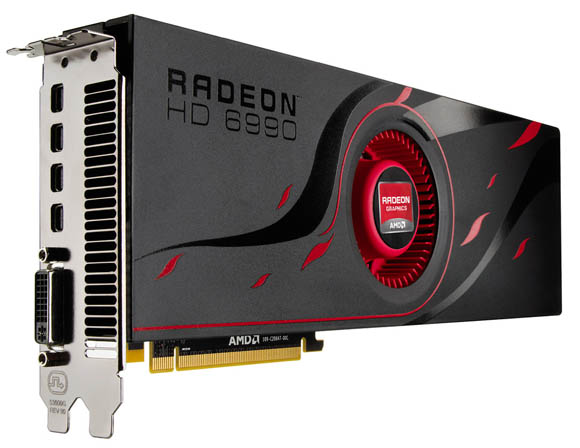 $699 buys you one hefty PCIe 2.1 x16 chunk of graphics goodness
Seeing as how AMD has spent much of its energy recently promoting the low-power, integrated-graphics CPU/GPU mashups in its Fusion line, perhaps Tuesday's high-volume proclamation is meant to remind the bleeding edge of the graphics market that the company intends to battle hard for dominance in that sphere, as well.
If so, it appears that the Radeon HD 6990, formerly known as Antilles, may be an effective weapon. "Designed for the power gamer," the card "delivered a new single graphics card world record score of P11865 in the industry standard 3DMark 11 benchmark," according to AMD.
Not surprisingly, AMD also points out that competitor Nvidia's GeForce 580 turned in a less-impressive P9213 in testing by Romdominance of the HWBOT Worldwide Overclocking League.
Spec-wise, the 6990 is impressive. A few of the gnarly bits: a stock engine clock running at 830MHz, overclockable to 880MHz; a memory clock of 1.25GHz; 4GB of GDDR5 memory, addressable at 5Gbps; a max of 320GBps of memory bandwidth; and a raft of processing muscle in its TeraScale 3 architecture, including – counting both Cayman cores – 3,072 stream processors, 192 texture units, 128 Z/Stencil raster operator units, 64 color raster operator units, and dual geometry and rendering engines.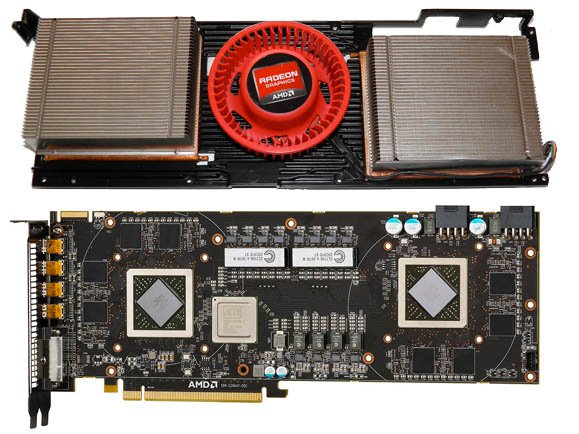 Slap a cooling system (top) onto two Cayman VLIW4 chips, slip them into a case, and you have a Radeon HD 6990
The card also supports the various AMD technologies that one might expect: Eyefinity multi-display support for up to five displays, or six with DisplayPort 1.2 Multi-Stream Transport; EyeSpeed acceleration technology; HD3D stereoscopic 3D support; the UVD3 video-playback accelerator for HD video and Blu-ray 3D; and more.
The card is available immediately at a suggested retail price of $699, but make sure your system has the juice it needs to support it: according to Anandtech, their test system running an overclocked 6990 sucked up as much as 684 watts.
And then there's noise. As Anantech explains: "The Radeon HD 5970 was a loud card, the [Nvidia] GTX 580 SLI was even louder, but nothing tops the 6990."
Still, if you're playing Crysis on a loaded system with an overclocked AMD Radeon HD 6990, who really cares about a measly 60 or 70 dBA? ®
Similar topics