Space shuttle Discovery is set to bow out tomorrow with its final homecoming at the end of a distinguished career which began on 30 August, 1984.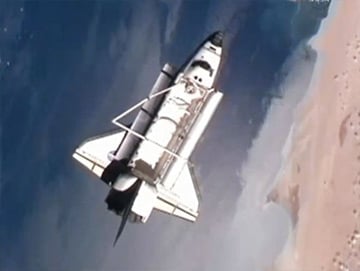 The venerable vehicle has two landing opportunities at Kennedy Space Center, at 16:57 and 18:34 GMT. NASA notes: "If Discovery is unable to land Wednesday, additional opportunities are available on Thursday at Kennedy and at backup landing site Edwards Air Force Base in California."
Assuming it does touch down tomorrow, Discovery will have "spent a total of 365 days in space and traveled more than 148 million miles [238m km] during 39 flights".
The STS-133 mission crew were roused this morning by a live rendition of Blue Sky by Big Head Todd and the Monsters – "the first ever wake-up song played live to space".
NASA has more on the song and the latest shuttle news right here, and a Discovery retrospective here. ®
Similar topics