When he unveiled the iPad 2 last Wednesday, Steve Jobs hammered home the point that it was a bargain buy when compared to the competition. He was, at best, stretching the truth. At worst, he was shoveling bullshit.
"Some folks are out there saying, well, they're only a little bit more expensive than us at $799," Jobs told his San Francisco audience in a clear reference to the Motorola Xoom, which shipped late last month.
Standing in front of a slide that displayed the iPad 2's prices, Jobs continued: "When you take a look at this matrix of six models, five of these six models are less expensive than $799. So they've really moved up into high ground. We only have one model that's more expensive than $799."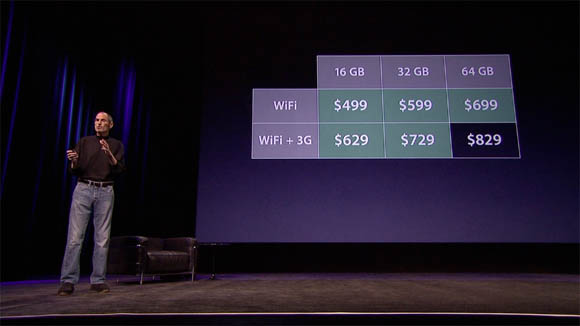 We resisted the temptation to Photoshop Steve Jobs with a growing nose, à la Pinocchio
Brett Arends of MarketWatch, in a price-comparison article this Tuesday, begs to differ. And he makes some rather incontrovertible points:
For $799, Motorola provides a Xoom with both Wi-Fi and 3G, and includes 32GB of storage space. A comparably equipped iPad goes for $729.
If you sign up with Verizon for that Xoom with a two-year contract, you'll pay $599. For a comparably equipped iPad from Verizon, you'll pay the full $729. From AT&T, it's currently $629, and that's for the now-discounted original model.
Should you want more storage space in your iPad than 32GB, you'd have to move up to the $829 64GB model – a $100 premium. Should you want to upgrade your Xoom's storage space, on the other hand, you could simply slip a 32GB card into its microSD slot – and that 32GB would set you back about $65.
"None of this, naturally, is to suggest the Xoom is inherently the better product or that you should buy one instead," writes Arends. "But it does counter the suggestion that the iPad is always the much cheaper alternative. It isn't. Despite what Jobs would have you believe, the picture is more mixed."
In his concise monograph On Bullshit, philosophy professor Harry Frankfurt of Princeton University writes: "However studiously and conscientiously the bullshitter proceeds, it remains true that he is ... trying to get away with something."
We'll leave it to you, Reg reader, to divine Jobs' intent, but when comparing pricing, we advise that it's always best to compare, shall we say, apples to apples. ®
Similar topics