This article is more than 1 year old
Croatian brainboxes deploy calculus-based CAPTCHA
Head-scratching puzzler
Boffins at Croatia's Ruđer Bošković Institute are confronting surfers with difficult maths problems as an alternative to conventional CAPTCHA conundrums.
Web users signing up for new accounts are typically asked to decipher the text in a jumbled up image and input the results into a dialogue box. The challenge-response test is designed to frustrate the automation of web service enrollment and needed because, for example, webmail accounts are a useful tool for spam distribution.
Text-based CAPTCHAs are by for the most frequent form of this reverse Turing test, though image-based approaches are sometimes applied.
The Croatian brainboxes, however, have discarded all that by confronting would-be users of a random bit generator service with a difficult calculus conundrum.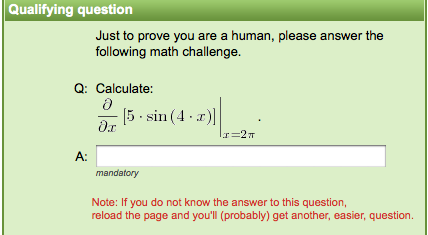 Refreshing the page, however, generates a much simpler problem...
Would-be users of such a service are likely to be cryptographers or others versed in the more obscure mathematical arts, perhaps. The puzzle is perhaps more easily solved by computers than humans.
Especially when, as the Los Angeles Times points out, knowledge engine Wolfram Alpha provides the most efficient approach for most humans towards solving the problem. ®