Google has introduced a new Gmail tool designed to automatically identify and sort certain types of messages, including "bulk" mail, group mailing list "forum" messages, and notifications such as online account statements and receipts.
This past August, in an effort to battle the dreaded "information overload", Mountain View introduced its Gmail Priority Inbox tool, which seeks to automatically identify "important" messages. Now the company has taken a further step with something it calls Smart Labels. "People get a lot of email these days. On top of personal messages, there are group mailing lists, social network notifications, credit card statements, newsletters you might have signed up for, and promotional email from a shopping site you used once months ago," Google says in a blog post.
"Last year, we launched Priority Inbox to automatically sort incoming email and help you focus on the messages that matter most. Today, we're launching a complementary feature in Gmail Labs called Smart Labels, which helps you classify and organize your email."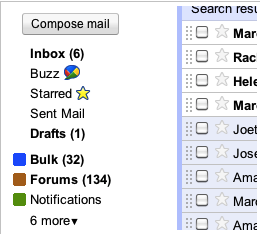 Smart Labels seek to automatically identify bulk mail, notifications, and forum messages; label them appropriately; and sort them into folders. "If you already use filters and labels to organize your mail, you may find that you can replace your existing filters with Smart Labels," Google claims. But, naturally, you can retain your existing labels and filters. You can edit smart labels just as you would existing labels and filters, and you can ensure that old-school labels and filters are never smart-labeled.
By default, smart-labeled messages still show up in your main inbox, but you can choose to have them skip your inbox and only show up in subfolders. And, yes, if a smart label gets stupid, miscategorizing a message, you can report its stupidity to Google.
At this point, Smart Labels is merely a "Gmail Labs" project, meaning it's still under test. To use it, you must turn it on in the Labs tab in the Gmail setting interface. ®
Similar topics