Q2 motion-controlled internet radio
It's only rock and roll...
---
Review The Q2 is the simplest Internet radio you're likely to find. It's good looking too, with its tidy cube shape, rubberised casing and five colour options: white, black, lime and a couple of flowery pink and blue versions.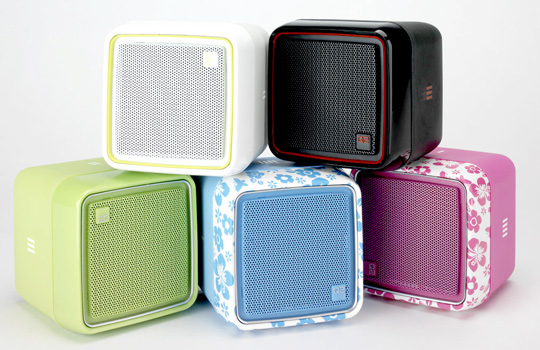 Hip to be square: Q2's Internet radio
The last two colour choices presumably cater for the fashion conscious, though they could be mistaken for trendy baby monitors. Thankfully, the white model is understated, with just a thin yellow trim around the front.
Equipped with Wi-Fi and measuring just 10cm per side, the Q2 is more portable than typical 'next gen' radios. Developed by Cambridge Consultants for the Armour Home group, it aims to demystify Internet radio by removing the display and conventional controls.
Taking its cue from smartphone apps, it's motion sensitive instead. You switch between four presets by turning it onto a different side (each of the outside edges is numbered). Tilt it upwards to raise the volume or down to lower it.
Placing the Q2 onto its front mutes it and, after a few minutes, puts it into battery-saving standby. There's a full on/off toggle switch at the back, where you'll also find the mini USB port and a headphone/stereo output jack.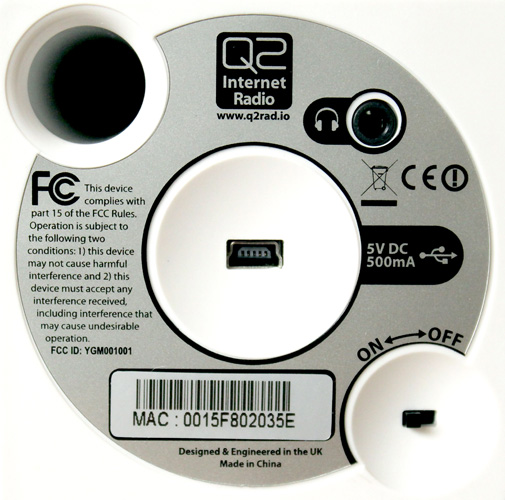 The mini USB port enables charging and station configuration
Although there's no user interface, two LEDs beneath the speaker grille flash for a short time to alert you when its connecting to a network or if the battery is low. The Q2 is recharged through its supplied USB-mains adaptor or when connected to a computer.