Apple frees iOS 4.3 two days before iPad 2 Arrival™
Wants $4.99 for Xcode
---
First Look Apple has released the free iOS 4.3 update for the iPhone, iPad, and iPod touch, goosing Safari's JavaScript performance, adding a handful of new features (not available on all models), and providing a flurry of security updates, all two days before it's set to appear on the iPad 2.
Cupertino also rolled out Xcode 4, the latest version of its combined Mac OS X and iOS development environment. The full Xcode 4 package, which includes the Xcode IDE, Instruments, iOS Simulator, and the Mac OS X and iOS SDKs, is free to registered developers and $4.99 for normal humans at the Mac App Store at the Mac App Store.
Xcode was previously free, by the way, bundled with Mac OS X installer discs or downloadable. But as we've said many times, Apple has never met a revenue stream it didn't like – like most companies.
We installed the iOS 4.3 update on our iPad and iPhone 3GS using iTunes' automatic upgrade capability, a process that took a goodly amount of time: the iPad upgrade weighed in at 596.9MB, the iPhone version at 423.3MB.
Safari in iOS 4.3 has been juiced by WebKit's Nitro JavaScript engine, which appeared in Safari for the Mac last June when version 5 was released. Apple claims that the new version "runs JavaScript up to twice as fast as in iOS 4.2," citing performance on the SunSpider 0.9.1 JavaScript benchmark. We noticed snappier performance on some websites, but frankly nothing to write home about, seeing as how our connection to the intertubes here at Vulture Annex isn't exactly FiOS quality.
Just for giggles – and for those Reg readers who might be amused at a thoroughly unfair comparison – we ran SunSpider 0.9.1 on our iPad and scored a total of 3412.3ms ± 0.3 per cent; and on our iPhone 3GS, 5389.9ms ± 1.3 per cent. Our 2.8GHz dual quad-core Xeon Mac Pro running Safari 5.0.4 ran the same benchmark in 323.2ms ± 2.7 per cent.
iOS 4.3 also adds what Apple calls iTunes Home Sharing – a way to wirelessly stream media content from Macs or Windows PCs to iOS devices without having to physically move the files through syncing or file transfer. In our limited testing it worked just dandy, although setting it up involved a bit of trial and error.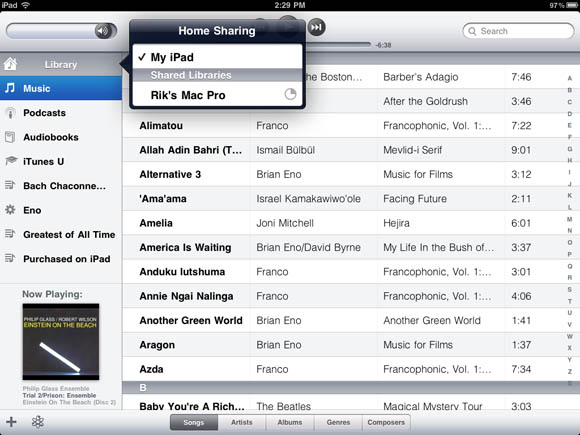 Access Home Sharing in a Library pop-up on your iPad (above), or in the Shared list in your iPhone's More pane
After making sure that your Mac or PC is on the same wireless network as your iOS device, you'll need to go into your iOS device's Settings > iPod pane and enter your Apple ID and Password in the Home Sharing fields. On your Mac or PC, launch iTunes, go to the Advanced menu and turn on Home Sharing. In our case, it was already on, but we had to turn it off, then back on again for Home Sharing to wake up.
For help in setting up Home Sharing, check out Apple's iTunes: Understanding Home Sharing page. If you still have problems, check out the iTunes: Troubleshooting Home Sharing
We were less successful in using another touted iOS 4.3 feature, Personal Hotspot, which turns your iPhone into 3G internet tetherer over Wi-Fi. As Apple notes on its iPhone: System Requirements for Personal Hotspot web page, this feature's Wi-Fi capability is available only for the iPhone 4 and Wi-Fi with support for WPA/WPA2 encryption. Due to Antennagate, we're waiting for iPhone 5.
Personal Hotspot will work over Bluetooth or USB on an iPhone 3GS or 3G running iOS 4.3, but only it you have a carrier plan that supports tethering. We don't. Never needed it. Sorry. Should you want more info on this capability, check out Apple's iOS: Understanding Personal Hotspot; for help, see iPhone: Troubleshooting Personal Hotspot.
iOS 4.3 also adds the capability of using the AirPlay feature – which allows you to stream media content from your iOS device to your HDTV over Apple TV – to stream content from your device's Photo app, including video. Needless to say, considering iOS devices' less-than-stellar cameras and video streams, we doubt that AirPlay will compete with Blu-ray anytime soon.
On a minor note, Apple responded to a raft of user complaints and now gives you the choice of toggling the iPad's side switch between an audio mute and a display-rotation lock. Nice touch, but something it should have done in the first place rather than simply switching it from lock to mute in an earlier iOS iteration.
The upgrade also includes a number of other tweaks, such as improvements to the struggling Ping iTunes-based social-networking service, and a few other minor niggles. A full listing of the update's upgrades can be found on Apple's aptly named iOS 4.3 Software Update page.
The iOS 4.3 update's security fixes are many and varied, ranging from a fix for a font-based vulnerability in CoreGraphics to security-enhancing IPv6 tweaks to a number of Safari, WebKit, and Wi-Fi enhancements.
All in all, iOS 4.3 appears at first blush to be a worthy upgrade, especially if you own an Apple TV or have an iPhone 4 with a tethering plan. Of course, it's still only a few hours after the update appeared on mid-Wednesday, so we'll keep our ears open for the nearly inevitable "gotchas" that accompany any OS update. ®