The long and distinguished career of space shuttle Discovery ended yesterday at 16:57 GMT when the venerable vehicle touched down at Kennedy Space Center at the end of its final flight.
Speaking to the press shortly after landing, commander Steve Lindsey said: "It was a great day to come back and land in Florida, we're happy to bring Discovery home."
He added: "As hard as it was to leave the flight deck when we were all done – at least for me it was – we were really focused today on bringing it [the shuttle] home safe. We were really working hard the whole mission and didn't have a whole lot of time to reflect about that."
"I did notice when I was on the ramp and walking around afterward as the minutes passed I kind of got more and more sad looking at the vehicle and how healthy it is and wonderful it performed, not just on this flight but the other two flights that I flew on, as well as every other flight. It kind of got sadder for me as the minutes rolled past."
Among a tearful NASA's tributes to Discovery is this montage (big version here) featuring all its 39 mission patches: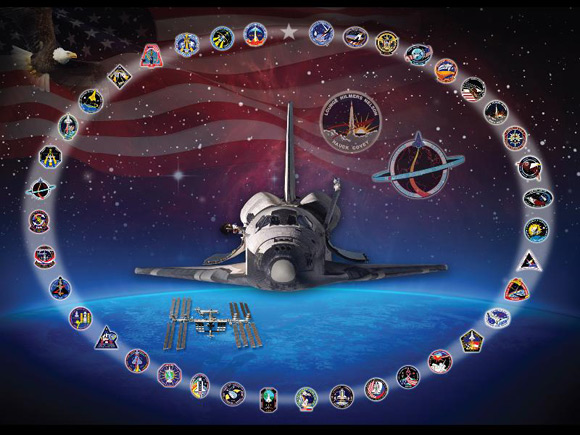 The agency says of the spacecraft: "It has flown to space more than any other craft, and it has carried more crew members to orbit.
"It has visited two space stations. It launched a telescope that has seen deeper in space and in time than ever before. And twice it has demonstrated the United States' will to persevere following devastating tragedy, returning America to orbit following the two worst accidents in space history."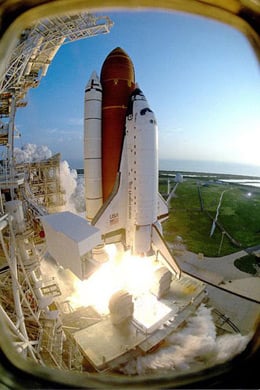 Discovery was delivered from the shuttle assembly plant in Palmdale, California, to the Kennedy Space Centre in November 1983. Its first mission was STS-41D, which launched on 30 August, 1984, carrying three comms satellites.
Following four launches in 1985, the orbiter was grounded for two years following the January 1986 Challenger disaster, before being chosen for the 1988 Return to Flight STS-26 mission.
In April 1990, Discovery had the honour of deploying the Hubble Space Telecope during the STS-31 mission. Future NASA administrator Charles F Bolden was selected as pilot, and by February 1994, he'd been promoted to commander for STS-60.
That mission was also notable for the presence alongside the Discovery crew of Sergei Krikalev, the first cosmonaut to fly on a US spacecraft.