BT vs Sky vs Virgin
Top pay-telly providers go head to head
---
Going Underground
Virgin Media's fibre optic cable TV is available to about half the population, being concentrated on bigger towns and cities. Virgin Media is also testing fibre over telegraph poles for less populous regions.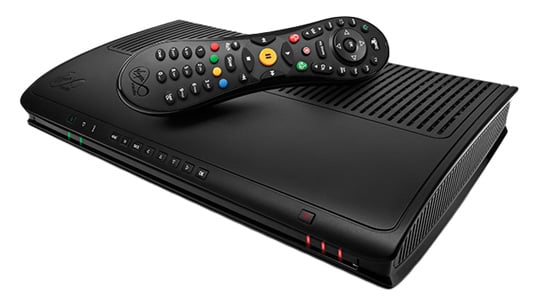 Standard monthly prices are £6.50 for the M+ package (65 channels), £12.50 for L (100 channels) and £24.50 for XL (160 channels). There are six HD channels in the M+ and L packages (from the BBC, ITV, Channel 4, Channel 5 and FilmFour) and 17 in XL. The full line-up is here. Some catch-up and on-demand content is HD.
Premium Sky Sports and Movies channels range from an extra £14.50 a month to £29.50 for a bundle, plus another £7 for their HD versions. FilmFlex has 500 new and classic movies on demand ranging from 99p to £4.99. TV Choice is free to XL subscribers and includes various series collected in 'boxed sets'. There's no 3D channel but movies such as Step Up and Joe Dante's The Hole were on-demand as of March 2011. Subscriptions cost more if you don't take a Virgin phone line but there are often introductory offers too.
There are three types of box: the V-box is HD/3D ready and it can be used without a pay-TV subscription. There's an optional £49.95 one-off charge to 'activate' HD. It cannot record but accesses catch-up and on-demand (free or pay-per-view). The V+HD box is the entry-level digital video recorder (DVR), offering 160GB (80 hours of SD telly). The £49.95 HD activation charge is mandatory and there's a £5 monthly service charge unless you take XL. The TiVo-powered DVR is a new premium option, costing £199 upfront, excluding installation, and £3 extra on top of the required XL subscription – but look out for future promotions.
The TiVo has a 1TB hard drive and 'time travelling' programme guide to scour upcoming schedules or delve into last week for catch-up broadcasts. It has extensive searches by title, keyword, genre, actors or directors. Personalised searches are stored in wishlists, for example, to always record anything directed by Danny Boyle or starring Jeff Bridges. It also learns what you like and suggests other things. TiVo has its own 10Mbps internal modem and a separate subnet to avoid congesting your broadband speed.
Virgin has an on-line Media Player – less comprehensive than Sky's – and a version for mobiles.
Similar topics
Broader topics