BT vs Sky vs Virgin
Top pay-telly providers go head to head
---
Review: BT Vision
BT Vision boasts a 14-day EPG and its on-screen menus are clear and simple. It has flexible ways to find what's new or popular and to search for content by name, genre and keywords, though it's not as intelligent and customisable as TiVo.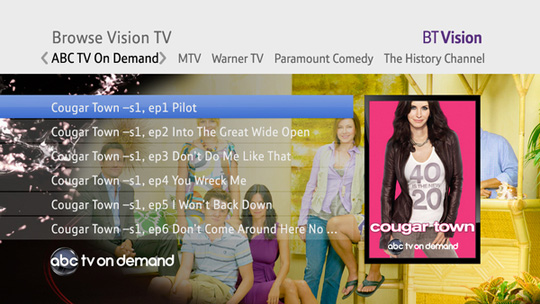 Still work in progress, with a new BT Vision box promising more content
The on-demand playback is pretty much immediate, while HD has just a short delay, depending on broadband performance. By April the full, proper version of the BBC iPlayer will have appeared on all BT Vision boxes.
There is not a huge selection of channels at present, but the VoD offerings are wide ranging at about 3,500 programmes, including series such as 30 Rock and Ugly Betty bundled into boxed sets.
BT claims that the basic Freeview channels plus Sky Sports accounts for three quarters of what people normally watch – and its Infinity based packages will expand this. Parents will be glad that the kids' VoD content has no adverts, while shorter programmes can sometimes be bundled into convenient continuous blocks.
The picture quality is inevitably more compressed than, for example, Virgin's on-demand programmes and films. Even an "HD" version of Toy Story 3 showed some blocky break-up.
BT Vision is a cost effective alternative to Sky's pay-TV if you are not in a Virgin Media area. However, you may be better off waiting for the next-gen Vision box as it will add personalisation features and receive content beyond the existing BT ecosystem, including Freeview HD and other on-demand material.
Reg Rating 70%
Initial Price £30 or £120
Monthly subscriptions From £7
More Info BT Vision
Similar topics
Broader topics