BT vs Sky vs Virgin
Top pay-telly providers go head to head
---
Review: Sky+HD with Anytime+
Sky+ is an easy to grasp, user friendly recorder that can also be set remotely using mobiles or on-line. The new Anytime+ on-demand system is integrated effectively into the existing menus. It has a wide and expanding range of programmes from Sky's library to download for no extra charge (except the newest films).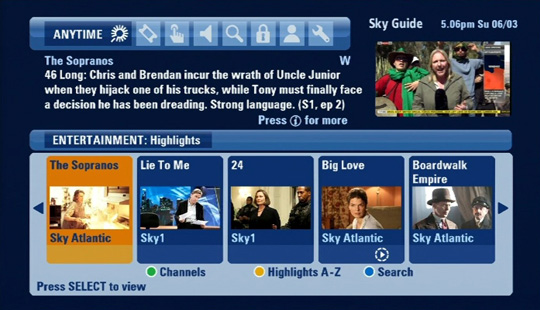 The Anytime+ VoD service requires Sky broadband which won't suit all potential subscribers
The on-demand viewing isn't quite instant but playback can be started after about a minute. Currently the VoD is only standard definition, looking slightly more compressed than SD broadcasts but cleaner than BT Vision's streaming versions. There are Box Office movies via satellite in HD but they are pay-per-view, not instantly on demand and don't include HD TV shows.
At the moment Anytime+ is only available to Sky customers who also take its broadband service (and not everyone does).
The EPG and recording management are less clever than TiVo, particularly for finding new episodes when a series moves channel or has been off-air for a while. Indeed, it was no exaggeration when Reg Hardware reader Wondermouse commented that Sky+ was "like a TiVo with a lobotomy". Sky's Never Miss is a web tool that tries to plug this gap.
Sky+ also has a reputation for niggling bugs. Software updates may cause new problems and existing glitches can go unsolved for ages. Quality and stability varies between Sky+ models – even within the HD range there are numerous iterations – and not all are Anytime+ compatible but the newest ones are clearly better.
Reg Rating 75%
Initial Price Free (subject to conditions)
Monthly subscriptions From £19.50
More Info Sky
Similar topics
Broader topics