BT vs Sky vs Virgin
Top pay-telly providers go head to head
---
Verdict
What TV service you want to keep or upgrade to may depend on various things – whether you want a dish on your home, your opinion of Rupert Murdoch, your attitude to filesharing, whether you live in a cable area, if BT is the best remaining option, and so on.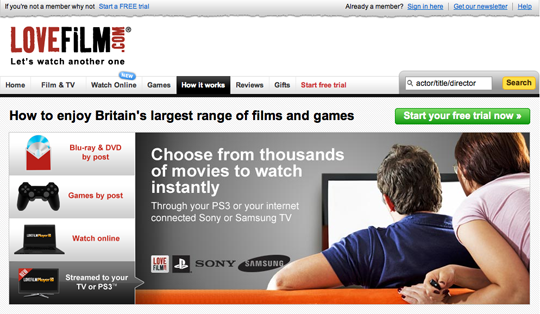 Lovefilm.com provides multiple options for its viewers
You could be perfectly happy using Freeview or Freesat but you might bemoan the lack of Sky Sports. Movie fans are well served with alternatives including simple Blockbuster rentals, LoveFilm (by post or from the internet) and downloading from the increasingly dominant iTunes Store for film and TV. Even so, pay-per-view through your telly is certainly very handy, if you don't want to keep the film.
All services are undergoing changes. Virgin has its promising partnership with TiVo to bolster its already strong VoD line-up, BT Vision is about to revamp due to both fibre optic connections (in some areas) and YouView to offer a number of extras beyond Freeview without you needing to pay for dozens of channels you won't watch.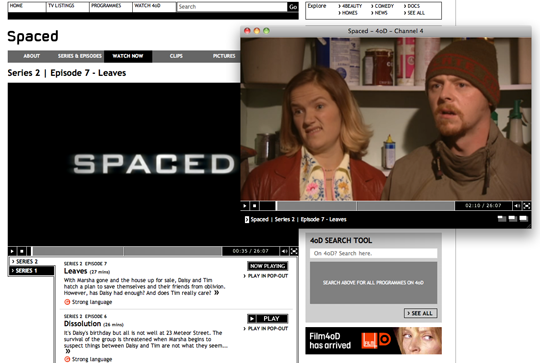 Akin to the BBC iPlayer, 4OD accesses Channel 4's programme archive, but sports fans will still want live TV
Sky, despite being a broadcasting behemoth, has been the slowest to get proper video on demand onto its network. Indeed, it lacks catch-up TV from the public service broadcasters that account for so much viewing, yet it has the most linear channels, including lots in HD.
Currently, there has yet to be one gadget or provider that delivers all the options as far as television goes. When choosing there will, of course, be financial or feature incentives if you take phone and broadband from the same company. As this appraisal highlights, there are plenty of deals as well as new services on the horizon and performance factors to consider. Also, bear in mind if you need realtime telly for those time critical sporting events, or just plenty of films for the kids. Given the range of non-realtime broadcast options available, pay TV packages need closer scrutiny these days, as using other sources to mix and match may well allow you the freedom to focus on a deal that suits your viewing habits best. ®
Similar topics
Broader topics