Apple to sell 107m iPads in 2016
Touch panel shipments point the finger
Eager to see Apple no longer the world's biggest seller of tablets? The good news: it'll happen. The bad news: not until 2014 at the earliest.
So says market watcher DisplaySearch, albeit indirectly. Today, it issued its forecast for the touch-sensitive panel business through 2016.
There's more to a tablet than a touch panel, of course, but since almost all tablets during that period will have but one touch panel, shipments of the latter are a good rule-of-thumb guide to shipments of the former.
There isn't a 1:1 correspondence between touch panels shipped and the number of tablets based upon them that will ship, but it's close enough, especially when you're dealing with what are, in any case, just forecasts.
DisplaySearch has handily segmented shipments to Apple from touch panels going to everyone else.
Touch Screens for Tablet PC Shipment Forecast (Millions)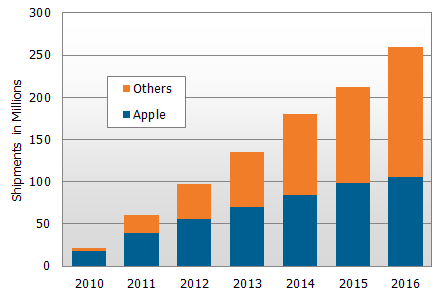 Source: DisplaySearch
A close look at the researcher's chart shows that the blue bars don't become smaller than the orange ones until 2014. Apple-oriented shipments don't fall significantly below those made to the iPad maker's rivals until 2016.
At that point, Apple will have - roughly speaking - a 41 per cent share of the tablet market, if these panel shipment figures prove accurate. That's down from 46 per cent in 2015, 47 per cent in 2014 and 52 per cent in 2013.
DisplaySearch said it expects 260m tablet-oriented touch panels to ship in 2016. So that means Apple will still ship around 107m iPads that year - or $64.2bn worth of product, assuming the prices don't change and last year's average sales price of $600 per iPad remains constant.
That's unlikely, but however you tweak the numbers, Apple is left making big money selling iPads - assuming, of course, DisplaySearch is correct in its forecast. ®