An unfortunate gamer was left unable to install a copy of Dragon Age II after being booted off developer BioWare's community forums.
According to user 'vware', the temporary ban was imposed after (s)he questioned whether BioWare had "sold their souls to the EA devil". The 72-hour expulsion locked him out of the Bioware Social Network, membership of which is seemingly required to install copies of games purchased in the EA store.
As this was vware's first ever ban, the user was not unreasonably annoyed at spending €50 (£44) on a game he couldn't install for three days.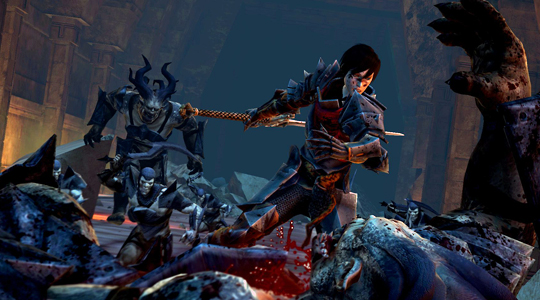 What did you say?
Vware voiced his iritation on the BioWare forums, under a different account.
In response, BioWare representative Stanley Woo said the ban arose from an alleged breach of EA community rules and was in response to another user hitting the 'Report Post' button. Under the EA Ts&Cs, being booted off a forum may affect access to games and/or downloadable content.
Woo added "Because the BioWare community now operates under the same umbrella as all EA Communities… members here have all explicitly agreed to abide by and be governed by both sets of rules. Consider it an added incentive to follow the rules you say you're going to follow."
While Woo has a point that users must follow the agreements they sign up for, you can't help but feel sorry for vware. Denying a user the right to play a game - and a single-player game, at that - they've just paid good money for seems an inappropriate response, whatever they may have written in a forum. ®