The same Icelandic volcano cluster whose billowing grey clouds caused widespread travel disruption across Europe last year will soon spawn an entirely different kind of cloud: an environment-friendly data center that hosts web applications.
Next month, Iceland startup Greenqloud plans to publicly debut an Amazon EC2-compatible service it claims will be the world's first truly green cloud: its servers are powered using nothing but renewable energy sources, have been customized to reduce the amount of power they consume, and are chilled in a data center that's cooled using Iceland's nippy air.
Greenqloud, currently in beta testing with a couple of hundred customers, consumes electricity generated by the hydroelectric and geothermal sources that go hand-in-glove with Iceland's volcanic activity: Iceland straddles two tectonic plates, with more than a third of the country's 40,000 square miles volcanically active and ready to produce another Eyjafjallajökull, the volcano that cause so much trouble last year.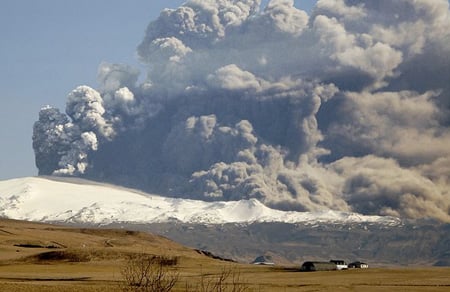 The power behind Eyjafjallajökull helps drive Icelandic data centers
Greenqloud founder and chief executive Eirikur Sveinn Hrafnsson is gunning for Amazon, and hopes to deliver a compute service that's cheaper, faster, and easier to use than Jeff Bezos' book-and-everything-else seller – minus the carbon footprint. He also hopes to beat such pretenders to Amazon's cloud crown as Microsoft and Salesforce, which are trying to close the gap on Bezos' baby, but whose machines leave a equally dirty planetary footprint.
Amazon doesn't say how many customers are on EC2, but Cloudkick – bought by Rackspace in December – is reported to have calculated that Amazon is running 90,000 "virtual computers" a day. Rackspace is also trying to become bigger than Amazon.
Compatibility with Amazon's EC2 is important, Hrafnsson told us. "We are trying to get on the high end right away, without having a price penalty."
Hrafnsson told The Reg that he plans to capitalize on the fact that Greenqloud's servers are powered using renewable sources that are cheaper and greener than the sources powering Amazon. "We thought, 'What does have Iceland have?' We have fishing and then we have renewable energy – we are pretty good at computer science, too!" he jokes.
Unmasking the 'green-washers'
Icelandic humor aside, Hrafnsson has a real beef with tech companies that color themselves green. He rails against those who claim some kind of power efficiency when – in reality – it's hard to prove or disprove their claims because nobody has created an accurate benchmark to measure the power used or carbon footprint of servers running in a data center.
Cloud evangelist Salesforce recently prodded the confusion pig further, claiming – based on a survey it had commissioned – that cloud-computing services produce 95 per cent less carbon compared to on-premise application servers. Salesforce is tugging at our green heartstrings, trying to persuade us that apps running on its servers will mean a greener planet for you, your children, and your childrens' children.
Microsoft has been boasting about the greenness of its data centers as well, recently talking up how its Chicago and latest Quincy data-center expansion use natural cooling rather than air conditioning systems burning up yet more watts to chill its servers.
Amazon – the one they're all trying to beat – is shy about its data centers, and won't talk about what it has running behind the scenes. But whatever it has, you can be sure it comprises tens of thousands of machines.
Mega-analyst Gartner recently upset this mutual greengasm by pointing out the obvious: servers and their cooling systems need electricity. According to Gartner, IT and cloudy services are helping choke – not save – our planet. They estimate that in 2007 the information and communications technology industry accounted for approximately two percent of global carbon dioxide (CO2) emissions – that's equivalent to the amount produced by aviation.
That's correct: your company's server farm lives in the same carbon shame-shack as does that transatlantic flight you took on Virgin Atlantic last summer.
Green metrics
To try and get everybody on the same page, Hrafnsson devised his own green metric so that Greenqloud's customers and potential partners can measure his company's credentials against those of its rivals. Hrafnsson's metric is called the Green Power Usage Effectiveness metric, or GPUE.
If GPUE sounds familiar, it should: it's based partly on the Power Usage Effectiveness (PUE) metric devised in 2007 by the industry consortium The Green Grid, and authored by Microsoft, Dell, AMD, and SprayCool, a specialist in cooling technologies heavily used by military data centers.
Hrafnsson is critical of PUE because it quickly became a widely adopted metric to "prove" the green credentials of data centers. According to Hrafnsson, PUE has been hijacked by marketing departments that don't really understand what it is. "PUE implies the efficiency of the data center," he said, "but it's a marketing thing – it shouldn't be allowed! Ninety per cent of the data center conferences are talking about PUE."
He's not alone: data-center authority the Uptime Institute has also picked apart PUE for becoming a green-washing marketing-monkey's dream vehicle.
Similar topics