LogoWatch Iran has decided it will after all participate in next year's London Olympics, after threatening to boycott the games over the "racist" logo.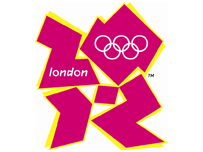 The irate Iranian government recently fired off a letter to the International Olympic Committee, insisting that the graphic spelled out "Zion". They asked for it to be replaced and the designers "confronted",* the BBC explains.
An understandably gobsmacked International Olympic Committee prez Jacques Rogge told the Beeb: "No, it can't be serious. We will quietly reply, telling [Iran] the logo has nothing to do with racism or any political connotation."
PM David Cameron described the claim as "completely paranoid" and said the Iranians wouldn't be missed it they failed to show.
Now, though, the secretary of Iran's Olympic committee, Bashram Afsharzadeh, has decided his country's athletes will attend. Unable to resist to a political dig, he declared: "Our decision, to partake [in the] Olympic Games, has nothing to do with the UK politicians. We will make co-ordination with officials of the International Olympic Committee and we will participate and play gloriously in London Games."
There's nothing remarkable about Iran's strop over the logo, but what is incredible that Afsharzadeh and chums have completely failed to spot the real hidden agenda. We suggest he contact Lisa Simpson for clarification. ®
Bootnote
* = executed, according to the El Reg Bootnotes department Iranian euphemism expert.
Similar topics