This article is more than 1 year old
openSUSE 11.4 rocks despite missing GNOME
Speed, LibreOffice, and more
Review openSUSE 11.4 brings a host of KDE and GNOME updates, the first release of OpenOffice fork LibreOffice, and numerous speed improvements.
Perhaps the biggest news, though, is what's not included. That would be GNOME 3.0.
Unfortunately for openSUSE fans, the distro's release schedule just didn't quite mesh with GNOME's, so GNOME 3.0 will have to wait for openSUSE 11.5, due at the end of the year.
Perhaps another reason for GNOME 3's absence is that KDE is the default openSUSE desktop. Prior to the release of openSUSE 11.3 last year, the openSUSE project announced it would shift its default desktop to KDE. While the distro is still ultimately desktop agnostic - the DVD installer packages both KDE and GNOME - the project is clearly putting the emphasis on keeping up with KDE ahead of GNOME.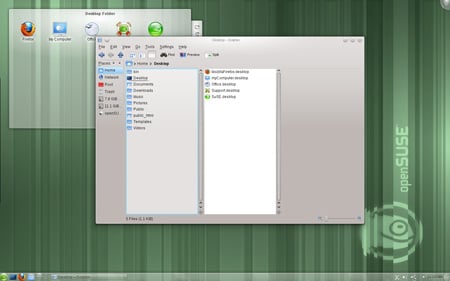 openSUSE 11.4 puts its emphasis on KDE for the desktop
OpenSUSE 11.3 shipped with KDE 4.4, but this time around KDE has been bumped all the way to 4.6, leap-frogging right over KDE 4.5 to offer all the latest and greatest that Plasma has to offer.
Notable updates in KDE 4.6 include a smarter power management panel and a new Bluetooth back end that makes it easier to share files among Bluetooth devices. KDE 4.6 also features faceted searching via a new filter panel that enables you to browse your indexed files using their metadata - dates, rating, type and more.
The KDE development team recently switched the project over to the Git version control system and, as part of that move, Dolphin now supports Git repositories. Using the new Git plugin lets you to update and commit right from the GUI - a nice touch that devs will no doubt appreciate.
KDE's default apps also see some improvements in this release, including some social web enhancements to Digikam and KSnapshot, which can both now link up to Flickr, Facebook and Picasa for easy photo sharing.
If you've got a netbook the revamped Plasma Netbook Workspace has seen a considerable makeover and, for my money, handily beats GNOME-based efforts. The KDE Netbook Workspace strikes a nice balance between optimizing for small screens and still ensuring that you have a "normal" desktop when you need it.
In openSUSE's KDE you'll also find several extra apps that KDE users typically love but are not technically part of the KDE Software Compilation release - like Amarok and KOffice as well as painting application Krita.
On the GNOME side of the coin, openSUSE 11.4 offers GNOME 2.32 - the end of the line for GNOME 2.x. Technically you can use the new GNOME 3 with openSUSE 11.4, but it's a beta version of GNOME 3 and I wouldn't suggest it for everyday use.
GNOME 2.32 doesn't have any dramatic changes from previous releases, but openSUSE has changed things up a bit by switching from OpenOffice to the new LibreOffice.