Facebook's inaugural Hacker Cup was won by a Googler. And when he lifted the (rather large) trophy on Saturday at Facebook's Palo Alto headquarters, he was apparently wearing his Google ID badge.
Considering the epic rivalry that has sprung up between the two web giants in recent months, this is at least worth a chuckle.
"Facebook must have been pissed off," said one Googler on reddit.
"Maybe even more pissed off by the fact that Petr wore his Google ID badge while posing for the cameras," answered another Googler.
"Heh, it's dangling from his pants. High five."
The Facebook Hacker Cup is a coding contest in the vein of Google's Code Jam or the endless competitions run by TopCoder. The first annual contest began as an online competition in early January, with nearly 12,000 developers vying for a spot in the final round at Facebook HQ. And on Saturday, the twenty-five finalists matched wits during a two-hour code-off, including several of the world's leading algorithmic coders, as ranked by TopCoder.
The finalists were asked to solve three algorithmic problem sets, and the only coder to successful solve all three was Petr Mitrichev, a Russian currently ranked number one in the world by TopCoder.
Mitrichev won Google's Code Jam – a similar, algorithm-based hack contest – in 2006. And this apparently led to a job at Google. An email to Mitrichev's apparent Google email address went unanswered, but a spokeswoman for Google Russia confirms that Mitrichev is currently working in the company's Moscow R&D center. Other Googlers have told us that he works for the company as a software engineer – and that at Facebook, he competed with his Google badge on (just below the belt):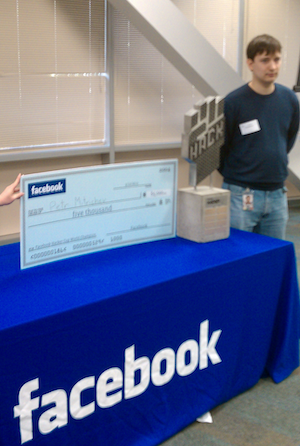 Petr Mitrichev
Clearly, this sort of coding competition is used to recruit employees. Facebook developer David Alves, who helped organize Facebook's Hacker Cup and helped write the problem sets, told us that recruitment was not the primary motivation behind the contest. But when the contest was over, a Facebook recruitment officer told the twenty-five contestants that anyone interested in a job at Facebook should get in touch.
We're guessing Petr Mitrichev will stay where he is. But you never know. There is a salary war on. And Facebook may not enjoy seeing a Google name on its cup. ®
Similar topics