This article is more than 1 year old
HP will grow future on clouds and analytics
Apotheker ain't gonna buy legacy software
Comment Let's talk about the money first because if the corporate strategy laid out yesterday by Hewlett-Packard's new president and chief executive officer, Leo Apotheker, doesn't pan out, neither will the ever-increasing dividends that are supposed to get Wall Street all fired up.
In conjunction with its HP Summit for analysts and journalists in San Francisco yesterday, Cathie Lesjak, the company's chief financial officer, said that HP would be paying its regularly scheduled quarterly dividend of 8 cents per share in April, as expected. But in the following year, the company will boost that dividend by 50 per cent, to 12 cents per share, and then intends to boost the dividend "in the double digits" in each successive year after that. HP has 2.2 billion shares outstanding, so at 12 cents a pop you're talking about north of $1bn in cash each year.
HP is not as rich as IBM or Apple, which are in roughly the same revenue category, so a billion simoleons is a lot of, er, clams.
So what is going to be driving HP's growth in the coming years? Cloud computing and business analytics. I have no idea what this image has to do with cloudy infrastructure or big data, but this was the opening image of the summit that greeted attendees: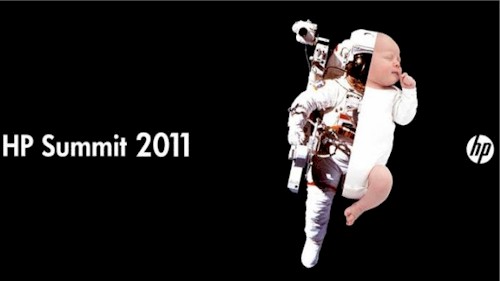 Resistance to clouds is apparently futile.
Just a little disturbing, isn't it?
Apotheker took the stage, his first big shindig since taking over from Mark Hurd (now at Oracle) four months ago, and rattled off all of HP's core strengths. This includes being number one or two in all the core markets it participates in among consumers, SMBs, and large enterprises; operations in 170 countries; a broad and deep portfolio of products; a vast supply chain that gives HP buying power among parts suppliers; growing research and development spending; a good balance sheet; and more than 300,000 employees worldwide.
"Our reach and scale are unmatched," Apotheker declared. And that, he said, was why HP was going to be the partner of choice as companies make the transition from a traditional IT stack consisting of devices, operating systems, and applications, to one of cloud computing services and connectivity linking them together – and turning us into something that Lesjak referred to as the "pro-sumer", which is apparently part professional and part consumer: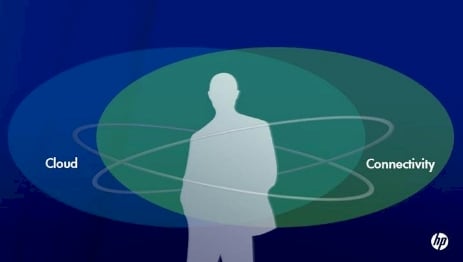 Pro-Sumer Man: You never stop working, you keep your job.
Apotheker said that the PC is the on-ramp to the cloud and that the printer is the off-ramp, and that HP and its partners would be able to build out a "cloud stack" consisting of connected devices including PCs, smartphones, and tablets, which would hook back into an HP public cloud, internal clouds built of HP iron and software as well as that from partners, and hybrids that allow applications to jump from the HP cloud and back into the data center again. Apotheker said that HP would offer raw infrastructure clouds as well as platform clouds – what used to be called "middleware," as he put it – but offered no details on how HP would do this without competing with the big cloudy providers that buy its servers. (Maybe they are buying more Dell iron than we think?) This cloud will include private, virtual private, and public partitions (meaning you can plunk a slice of it into your own data center or use HP's or do a little of both and cloudburst from one to the other). On top of that will be platform services for building, testing, and deploying cloud services (what we used to call "applications"), and in front of this will be an "open cloud marketplace" for generic consumer, SMB, and enterprise applications as well as industry vertical applications.