"We intend to be the platform for cloud and connectivity," said Apotheker, adding that we will live in a world with "each of us with our own private cloud, with our own personal and consumer life." Later he said that "HP has the ambition to be in all layers of the cloud".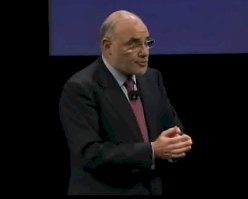 HP president and CEO, Leo Apotheker
Apotheker did not want to be drawn out on specific cloud plans from HP, and when asked about how this might affect server deals with Amazon or appliance deals with Microsoft, HP's CEO was a bit coy. "If you want to be in the cloud business, it has to be on a large scale, it has to be multilingual, and you have to be able to serve anyone anywhere." He said that HP had billions of dollars in cloud-related sales already and bristled at the idea that HP had to catch up with either IBM or Amazon, and said that it was "pretty damned simple" to catch up and compete because the company had 25,000 enterprise people to sell cloudy infrastructure.
HP goes to war 'with the army it has'
HP will, like rival IBM, move into higher value products and services, but it is not selling off its PC business, as was erroneously reported by Taiwanese business paper Commercial Times last week. HP will continue to build out its sales force for systems and services, and invest in "cloud and connectivity resources," particularly security (integral to clouds) and data analytics that can bring together unstructured webby data with transactional, operational data to do a better job running a business.
Martin Fink, general manager of HP's Business Critical Systems unit, which used to be solely dedicated to its HP-UX, OpenVMS, and NonStop platforms, was brought up on stage to show off a new data analytics appliance based on software that HP is in the process of getting its hands on through its pending acquisition of Vertica. Hot web property Groupon plans to run the Vertica Analytics Database on Amazon's EC2 cloud, but you can bet that HP wants to get this and a lot of other customers running such workloads on its own iron in its own data centers. (In the example that Fink showed, a car rental application was boosted with analytics that showed the rental company should charge a client more money based on his driving record, mixing the historical data in the company's transactional systems with heaven only knows what data from what I presume would be insurance companies and government agencies that track driving habits.)
The plan for the Vertica software is to sell it as free-standing software, as a service that companies can buy in cloudy fashion, and as an appliance that companies can install in their own data centers in quarter, half, and full rack configurations to do real-time, big data analytics.
As former US Defense Secretary Donald Rumsfeld once observed, possibly to his chagrin: "You go to war with the army you have, not the army you might want or wish to have."
When you sift for the nuggets at the HP Summit today, what Apotheker basically said was what we already knew: HP can't buy its way into ERP software or middleware software because those markets are already owned by companies that are too big to buy. (It's a bit like too big to fail, in fact.) And HP has to sell what it on its own truck, protect its core PC, systems and printer businesses, and mix them up in an exciting way that lets HP extract different value from its hodge-podge of products. I would not be at all surprised to see HP start selling virtual PCs stored out on the cloud, cutting into PC sales but boosting server sales.
The strategy is no less bizarre than IBM selling off its application software businesses, PCs, disks, and printers over the past two decades; having its reseller channel push all but the biggest boxes at the largest accounts; focusing the company like a laser on services; and spending a fortune on software acquisitions in the past decade-and-a-half. It is throwing off cash that is almost as sweet as what Apple can do these days. ®