Ofcom has confirmed its plan to cut mobile termination rates, though not as quickly as some would like.
The final statement from Ofcom will see termination rates – the amount paid by the caller's network to the recipient's network – rapidly cut in half, and then steadily reduced until 2014 when it hits a shade more than half a penny a minute.
That's welcome news to many, with predicted savings of £800m annually and better conditions for smaller players – particularly Three, which has long insisted that the existing mechanisms were unfair. But it's worth remembering that while callers save money, that means less going to the operators and less money to pay for next-generation networks.
The proposals were much debated when published last April, with both sides claiming it was fundamentally flawed. The larger operators claimed they would have to shed poor customers who cease to be viable and would have to cut handset subsidies, while Three argued that the proposals were too slow and didn't go far enough.
Mobile termination rates are currently around four pence a minute, but vary between operators, a disparity that will also disappear over the next few years.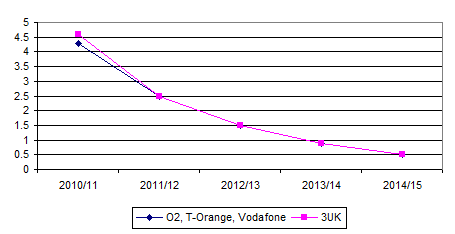 That almost certainly means lower prices for calling mobile phones, and Ofcom has provided a table showing the details, but network operators will no doubt find some other way to take our money. ®
Similar topics