This article is more than 1 year old
Ubisoft reveals rock game with REAL guitars
Plucking brilliant
Ubisoft has announced a guitar-based game that uses a real six-string rather than a button-bashing imitation.
Avid axemen groaned when Rock Band type games first surfaced. "It doesn't teach you how to play guitar," we moaned. "It's nothing like the real thing!"
Ubisoft's upcoming title Rocksmith seeks to change all that.
"Guitar Hero is a party game. Rocksmith is a music experience," said Ubisoft's Tony Key in an interview with Hollywood Reporter.
While the game will see a similar structure to its "party" equivalents, instead of pushing buttons, users will pluck strings and strum chords. Rocksmith will come with a jack input to connect a guitar to your PS3 or Xbox and will feature roughly 45 plank-spankers from Rolling Stones, David Bowie, Nirvana, the Animals and more.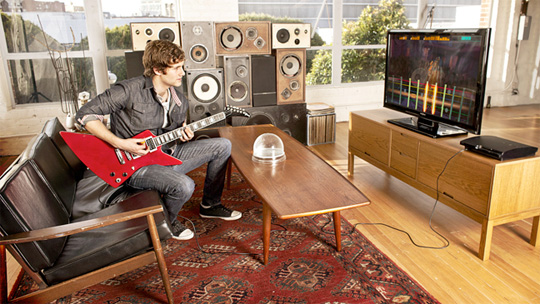 The title aligns with the company's plans to push through games that are "beneficial to a user", something Key promises more of in the future. While several dancing and keep-fit titles have already surfaced, Rocksmith is Ubisoft's first game that teaches gamers how to play an instrument.
Activision killed its popular Guitar Hero franchise earlier this year. Its decision may have been prompted by having to battle Axl Rose in court and the rising cost of music licences.
Ubisoft wont have the same trouble, apparently. According to Key, a videogame that teaches us how to play an instrument strikes a chord with most bands who are thus willing to license music for much less.
Rocksmith will go on sale around September. Ubisoft is looking to create an entire generation of six-string superstars. Perhaps gaming geeks will finally find a way to get laid. Rock on. ®