This article is more than 1 year old
Jon Bon Jovi accuses Steve Jobs of murdering music biz
Apple boss 'personally responsible'
Aging 80s hair-band demigod Jon Bon Jovi knows who killed the increasingly moribund music market: Apple CEO Steve Jobs.
"I hate to sound like an old man now, but I am," the 49-year-old Bon Jovi (née John Francis Bongiovi, Jr.) told The Sunday Times Magazine, "and you mark my words, in a generation from now people are going to say: 'What happened?' Steve Jobs is personally responsible for killing the music business."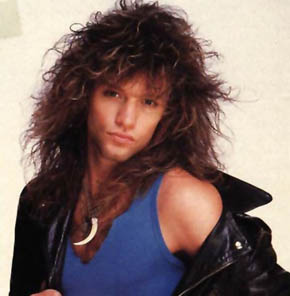 John Francis Bongiovi, Jr. in the 'magical, magical' past
And you thought the executioner might have been Nickelback, Hootie and the Blowfish, Limp Bizkit, Hanson, rapacious record execs – or, for that matter, Jon Bon Jovi.
Nope. It's the Wizard of Cupertino who's to blame. And Bon Jovi's reasoning is steeped in those-were-the-days nostalgia: "Kids today have missed the whole experience of putting the headphones on, turning it up to 10, holding the jacket, closing their eyes and getting lost in an album."
To Bon Jovi, the past was also a time of risk and reward, the thrill of the hunt, "the beauty of taking your allowance money and making a decision based on the jacket, not knowing what the record sounded like, and looking at a couple of still pictures and imagining it."
Jobs's singlehanded transformation of music from vinyl to digital, you see, has eliminated that cherished cultural artifact, the album cover. How, pray tell, do "kids today" clean stems and seeds from Arkansas Super Skunk without double album jackets such as, for example, the one that guarded the glorious grooves of Bon Jovi Greatest Hits: The Ultimate Collection.
Kids today, kids today... Suckling on the digital iTunes teat, slurping down tracks one at a time, denied the frisson of risking their allowance money on the unknown, spoiled by 90-second iTunes-preview nibbles.
Ah, the past. As Bon Jovi told The Sunday Times Magazine: "God, it was a magical, magical time." ®