Intel opens kimono on Sandy Bridge Xeon E3
Coming soon to a micro server near you
Intel pre-launched its Sandy Bridge Xeon E3-1200 series of processors on Tuesday, letting the world know that it intends to dominate the new micro server market being created by SeaMicro, Dell, Tyan, Calxeda, and others.
SeaMicro is making a lot of noise about its Atom-based SM10000 machines, which cram 512 cores into a 10U chassis, and Tyan and Dell are already offering single-socket, Xeon-based micro servers that slide into rack enclosures more densely – and more cheaply – than commercial blade servers.
Calxeda, which is building ARM-based micro servers, said yesterday that it would be able to put 120 servers, with a total of 480 ARM cores, into a 2U chassis using a micro server design that includes an on-chip fabric interconnect.
None of these machines is a volume product yet, and none is suitable for all workloads. But Intel wants everyone to know that the impending Xeon E3-1200 series chips, as well as next year's Xeon and Atom processors, are a perfect fit for micro servers.
That said, the Xeon E3-1200 chips and the Cougar Point C202 and C204 chipsets previewed today are not just for micro servers. They can be used in any single-socket server, be it a rack, tower, blade, or micro rack/blade hybrid machine.
Feeds and speeds of Intel's Sandy Bridge Xeon E3-1200 processors
These forthcoming Xeon chips come out of Intel's Data Center Group, which designs and makes server and workstation processors, chipsets, and networking chips. They are only available for servers, according to an Intel spokesperson. Single-socket workstations will apparently use different parts, likely because they'll have embedded graphics processors unlike the server variants of the Xeon E3-1200s previewed today. The workstation chips will probably also offer customers the option of having more cores and discrete, external graphics cards, too.
There are seven Xeon E3-1200 chips, six with four cores and one with only two cores. There is one high-end 95 watt part and four 80 watt parts. Two of the chips, which sport the L designation, are low-voltage parts probably of most interest to those interested in micro servers. The two-core version, the E3-1220L, spins at 2.2GHz and only dissipates 20 watts using Intel's thermal design point (TDP) metric for gauging power consumption and heat dissipation. The four core version, the E3-1260L, runs at 2.4GHz and warms up to 45 watts.
All of the new chips support the second generation of Intel's Turbo Boost technology, which lets a core's clock run faster if the other cores are not busy doing too much work. All of the chips have two DDR3 memory channels and support four memory slots for a maximum of 32GB of main memory – which is fine for a single-socket server, micro or otherwise. Memory chips only run at one speed, 1.33GHz.
All of the chips but the E31220 have HyperThreading support as well, which virtualizes each core such that the operating system or hypervisor running atop of the chip sees two instruction streams for every core, helping each chip get more work done on multithreaded jobs.
In a conference call Tuesday with analysts and journalists, Boyd Davis, general manager of marketing at the Data Center Group, revealed neither the chips' pricing nor a precise launch date, but did say they would be out in "the next few weeks." The official launch will likely be just ahead of or during the Intel Developer Forum event in Beijing on April 12 and 13 – but Davis wouldn't say. All of the chips, including the 20 watt and 45 watt parts, are in production now.
In the second half of this year, Intel will kick out another Sandy Bridge part that will be rated at 15 watts, and the company is working on a variant of the Atom processor that has 64-bit addressing, VT-x virtualization electronics, and ECC memory scrubbing that will launch in 2012 and that will deliver sub-10 watt thermals.
Here's the official roadmap, which also shows a 22-nanometer refresh of the Xeon E3 processors next year: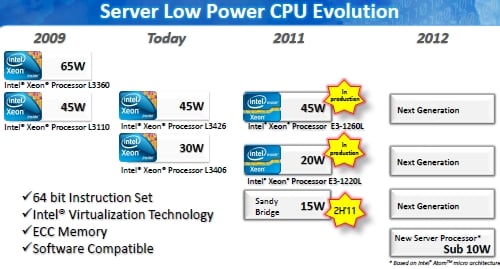 As far as Intel is concerned, micro servers are just one of a number of "density optimized" machines for which it needs to create chips: half-height blade servers, half-width rack server nodes, and micro servers that cram a dozen or two servers into a chassis that provides shared power and cooling for the nodes. In a sense, these micro server enclosures are like tiny rack servers in their own right, extracting the shared components out of the machines for more power efficiency and density.
In this sense, they are merely rack servers done right.
Intel understands that people are excited about micro servers using Atom, ARM, and other processors, but Davis says it is important not to get carried away because "wimpy nodes" are not for everyone.
"We are pretty excited about the micro server category for very specific workloads," explained Davis, "but 97 per cent of the volume we sell to cloud service providers today are for two-socket servers." And these tend to use regular Xeon EP processors.
That said, Intel thinks that micro servers will find a home at many companies, and could account for as much as 10 per cent of the server-chip opportunity for Intel in the next four to five years. These machines, explained Davis, are good for basic content delivery, lightweight Web serving (particularly for static content), basic email and online application serving, and low-end dedicated hosting where companies still want a whole physical server to themselves.
Intel also trotted out Gio Coglitore, director of Facebook Labs, the arm of the social media giant that tests out future code on iron to see what kinds of servers it needs, who made a case for what he called "realization" of servers – that's as opposed to virtualization.
While Coglitore would not talk specifically about the server and network topology of the Facebook workloads, he said that Facebook had big back-end databases, memcached servers front-ending these databases, and then Web servers fielding-up pages. Because of the way the company has coded its applications, they do not lend themselves to running atop hypervisors, Coglitore said, and added that while Facebook has not yet deployed micro servers, it had tested them at the node level and said that it was possible that it might deploy micro server machines in late 2011 or 2012.
And for those who think that Facebook workloads might work well on 32-bit architectures, Coglitore is having none of that. "For us, 64-bit is crucial because we are not going to port our code down to 32-bits," Coglitore said.
Coglitore also said that adding lots of memory to servers was important for Facebook's performance, so 32-bit machines' 4GB limit would be inappropriate, whether they are Atom or ARM chips. The Cortex-A15 ARM chip, by the way, will have a funky 40-bit memory addressing scheme that may help, but it's not clear when ARM Holdings will push up to 64-bits with its designs.
Instead of doing load-balancing within a data center atop hypervisors, Facebook does load-balancing across nodes in a data center, which have redundant data. It then, if need be, does failover of physical machines across data centers. With this already working, and running as lean and mean as Facebook can make it, it's no wonder that the company just wants some compact servers that burn as little juice as possible to run the simpler parts of its workloads.
Facebook is a big buyer of bespoke servers made by Dell's Data Center Solutions unit, and it seems likely that if anyone wins the micro server contract at Facebook, it will be Del with a variant of the Viking chassis and Dragon servers that the company was showing off last September.
Intel doesn't want to step on the enthusiasm some are showing for the Atom processor, but at the same time the company still thinks that most micro servers will use Xeon E3s, not Atoms. "We're super excited about what SeaMicro is doing with Atom, but we think we can do better," Davis said.
SeaMicro has been very clear that it will use whatever chip that its customers want in its SM10000 server designs, and has said that it can plunk in Xeon, Opteron, or ARM processors into its boards and hook them into the network fabric it created for the SM10000, no problem. It would not be at all surprising to see a Xeon E3 variant of the box soon, and well ahead of next year's ECC-enabled Atom processor. ®