The cash-strapped UK Ministry of Defence is to ally with national boffinry authorities to create a camouflage uniform for soldiers which will generate electricity, so perhaps removing the crippling load of batteries currently carried by troops in combat.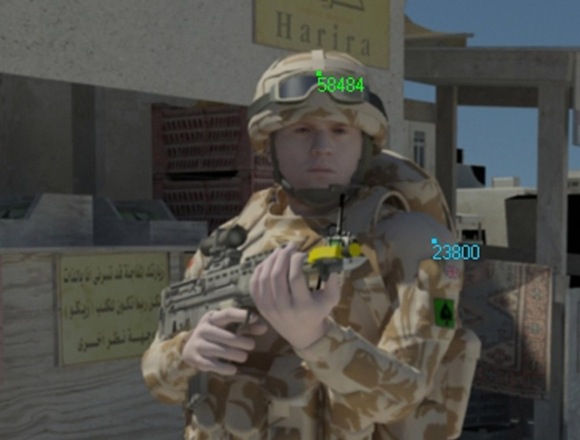 'Fictitious but realistic'? Better get rid of the blank-firing attachment, then
According to an official statement released yesterday, the new uniform fabric will harvest power from the sun's rays during daylight using solar photovoltaic technology. At night it will switch to an alternative thermo-electric method which will draw power from "difference in temperature between the outside and the inside of a soldier's battle dress" – essentially running on the wearer's body heat.
"Infantry need electricity for weapons, radios, global positioning systems and many other vital pieces of equipment," says Professor Duncan Gregory of Glasgow uni, one of the institutions participating in the project. "We aim to produce a prototype system within two years."
The project has been dubbed "solar soldier" and has been assigned £650,000 of funding from the MoD and the government's Engineering and Physical Sciences Research Council. More cash will come from Leeds and Brunel universities and a studentship which will be part of the project is to be funded by US weapons'n'aerospace megacorp Rockwell Collins.
On the face of it then, it would seem possible that squaddies will prowl the battlefields of 2013 lightened of several kilos of batteries, their gadgetry powered instead by the blazing sun during the day. The electro-uniform might not be quite so popular at night, where it would tend to eliminate the temperature difference between its interior and exterior - so sucking out the shivering wearer's body heat.
Frankly it seems rather more likely that the infantry application is a light presentational varnish for research into solar and thermo-electric tech which will be used in other applications, quite likely not military at all.
"We also anticipate that the technology that we develop could be adapted for other and very varied uses," admits Gregory. "One possibility is in niche space applications for powering satellites, another could be to provide means to transport medicines or supplies at cool temperatures in disaster areas or to supply fresh food in difficult economic or climatic conditions".
Read all about it courtesy of the EPSRC here. ®