General Electric nanotech scientists have have come up with a heat-conducting system that's more than twice as efficient as copper yet has a quarter of the metal's weight.
The design paves the way for faster, lighter computers and mobiles, the company claimed.
The system can be laid on top of a chip - and pretty much any other electronic component - to take heat away from the device to a point where it can be vented into the open air.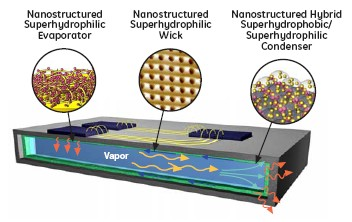 Laptops and other devices contain complex heat-transfer systems constructed from fans, heatpipes and radiators, all designed to carry away the heat generated by working chips.
The faster a chip runs, the hotter it gets, setting a speed limit beyond which chips are way more likely to crash.
The more efficiently the heat generated by working chips can removed, the higher that speed limit can be raised.
Existing cooling systems can be large. Replacing them with a more efficient system also means that the cooling unit doesn't need to be as big. That makes for thinner laptops.
GE's system works by changing the state of the water it contains. The heat causes the water to shift from a liquid to a gas. This 'phase change' consumes heat energy, and the convection currents established within the material help move the remaining heat away from the source.
The cooling system also contains nanostructures fabricated from water-attracting and water-repelling materials in order to accelerate the change of state and the movement of water away from the heat source to carry the heat away more quickly that the liquid would do alone.
Testing demonstrated a prototype cooling system's abilities, the boffins found that it could carry heat away from the source twice as efficiently as a copper-made cooler.
The GE prototype weighs a quarter of the copper unit, though the company and the team behind the technology tellingly didn't say that how big the prototype is. At this stage of the research, it's not likely to be so compact you can slot it into a laptop.
GE didn't, alas, say when its system might by so slimmed down, so we may have a while to wait until laptop makers can make use of the technology. ®